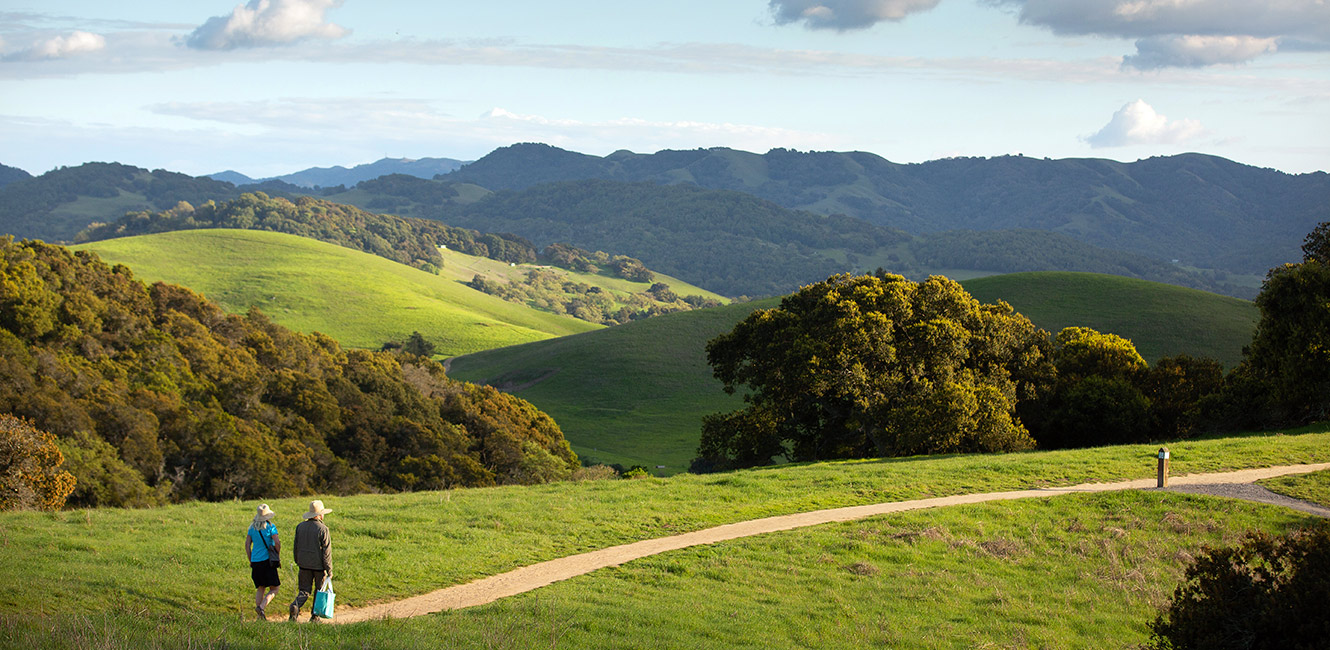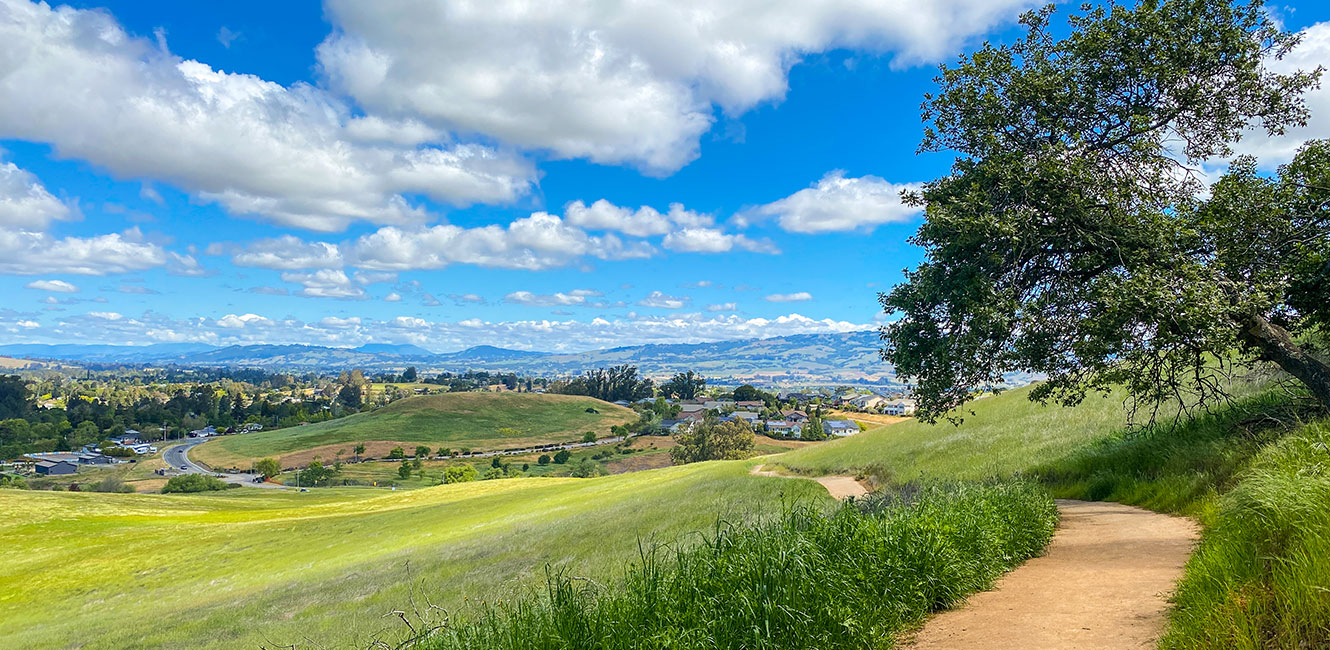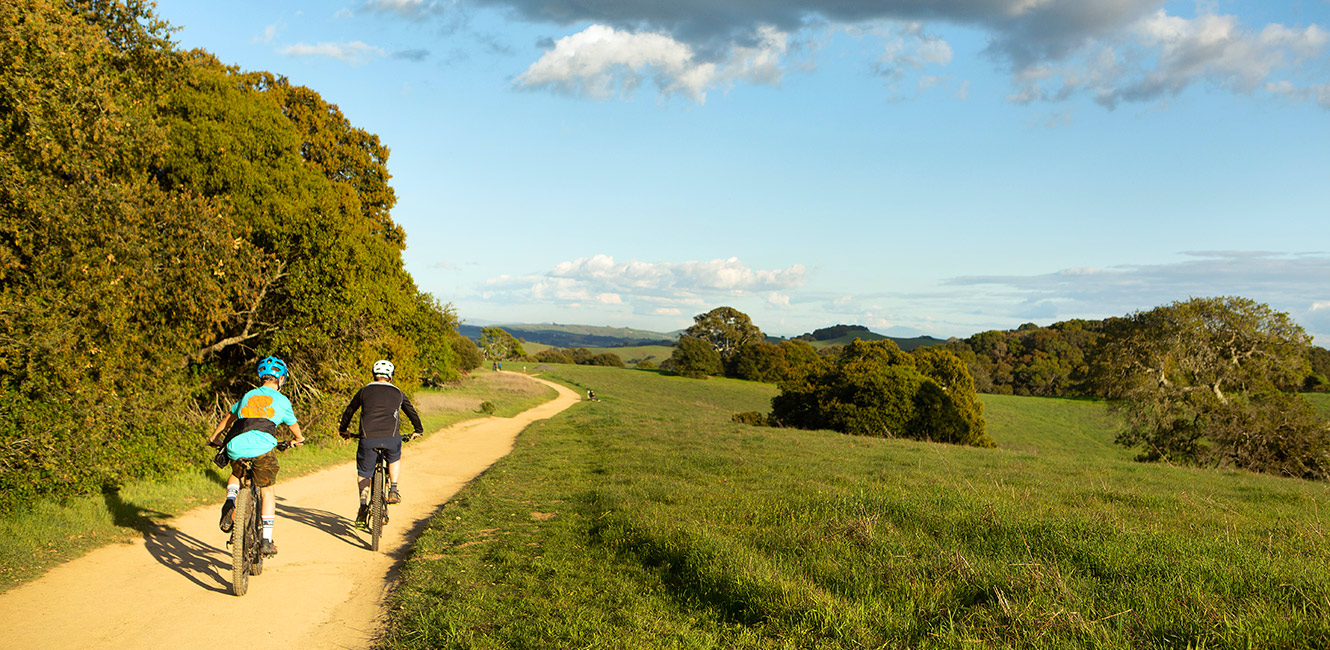 Helen Putnam Regional Park
411 Chileno Valley Road, Petaluma, CA 94952
Google Maps™ Directions
Local Weather
Hours
7 a.m. to sunset
Parking
$7 or free for members
Helen Putnam Regional Park is a compact wilderness park southwest of Petaluma. The park's 6 miles of trails cross grassy hillsides and weave through oak woodlands. Ridge-top trails provide panoramic views of the city and the southern Sonoma County countryside.
A fishing pond contains bluegill and other fish. An accessible playground, picnic area and gazebo are located near the Chileno Valley Road parking lot.
Entrances
Chileno Valley Trailhead
411 Chileno Valley Road
Petaluma, CA 94952

Windsor Drive Trailhead
373 Windsor Drive
Petaluma, CA 94952

Restrooms and drinking fountain are available in the Chelino Valley Road parking lot. A portable restroom is available at the Windsor Drive parking lot.
See What's New at Helen Putnam Regional Park
Celebrate the improved Helen Putnam Regional Park! You're invited to visit this popular Petaluma regional park, take a self-guided tour of the recent improvements we've made, and acknowledge the funders and volunteers who made this work possible.
Trails
Helen Putnam Regional Park lies just southwest of Petaluma in the rolling hills of the Chileno Valley and offers nearly 6 miles of trails across varied terrain.
The Ridge Trail has two parallel routes between the parking lot and Cattail Pond. One is paved, and one is dirt.
Excellent views of Petaluma to the east and Sonoma County countryside to the west can be enjoyed from the Panorama Trail. The viewpoints can be reached via a climb up Arroyo Trail from the Chileno Valley Road parking lot or a gentler approach via the paved Ridge Trail past Cattail Pond.
Filaree, Pomo, Savannah, and South Loop trails wind through dense oak woodlands and offer shade on hot summer days.
West Wind Trail is a new trail linking the north side of the park to a new parking area on Windsor Drive. West Wind trail connects to Filaree and Pomo trails.
Equestrians, hikers, and cyclists are welcome on all trails.
Accessibility
The park features accessible parking and path of travel. The paved Ridge Trail section does not meet standards for accessibility as it is too steep along most of the length – however it is feasible if using a powered mobility device.
Helen Putnam Regional Park is a compact open space park featuring beautiful oak savanna, grasslands, and ridges with panoramic views of the Petaluma Valley to the east and the Chileno Valley to the west. A 6-mile trail system lets hikers, bicyclists and equestrians explore the landscape on routes of varying difficulty and length. The main section of the Bay Area Ridge Trail is paved, providing a multiuse access through the park. The predominate oak species at Helen Putnam is the coast live oak, though mature black oaks are also found. The park provides habitat for deer, bobcat, quail, raptors, and a variety of other wildlife and birds. A fishing pond contains bluegill and bass, and a picnic area, playground, and gazebo are available at the Chileno Valley Road entrance. Dogs on leash are welcome on all trails.
Distances from Chileno Valley Trailhead
Arroyo–Panorama–Pomo–Fillaree–Ridge Loop: 2.3 miles
Arroyo–Panorama–Pomo–Ridge Loop: 2.0 miles
Ridge–South Loop–Ridge Loop: 1.9 miles
Ridge–Savannah–Arroyo Loop: 1.7 miles
Arroyo–Panorama–Ridge Loop: 1.7 miles
Ridge Trail to Oxford Court (one-way): 1.2 miles
Ridge–Pond–Ridge Loop: 0.6 miles
Upcoming events at Helen Putnam