Sonoma Marin Area Rail Transit (SMART) Trail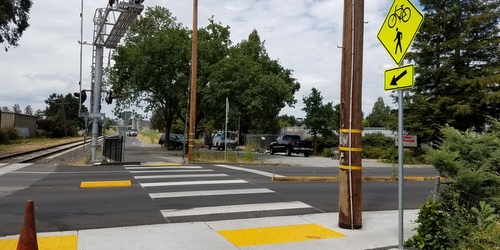 Hearn Avenue to Joe Rodota Trail
What & Why?
The SMART Train or Sonoma Marin Rail Area Transit train will extend from Larkspur Ferry on the San Francisco Bay to Cloverdale, the northernmost community in Sonoma County. The 1.3 mile section from Hearn Avenue to the Joe Rodota Trail is one segment of the proposed 70-mile SMART Trail that provides a north-south bicycle and pedestrian pathway parallel to the train tracks from Larkspur in Marin County to Cloverdale in Sonoma County.
The pathway provides connections to other bicycle and pedestrian paths, such as the existing Joe Rodota Trail and Prince Memorial Greenway, and the planned Mark West Creek Trail and Bellevue Creek Trails.
SMART Trail

SMART Trail Map
(PDF: 187 kB)
What's Next?
This section of the SMART Trail from Hearn Avenue to the Joe Rodota Trail was completed in August 2016 and is now open for use.
For updates on the construction of future SMART Trail segments, please contact the SMART office at (707) 794-3330 or info@sonomamarintrain.org.