Future Parks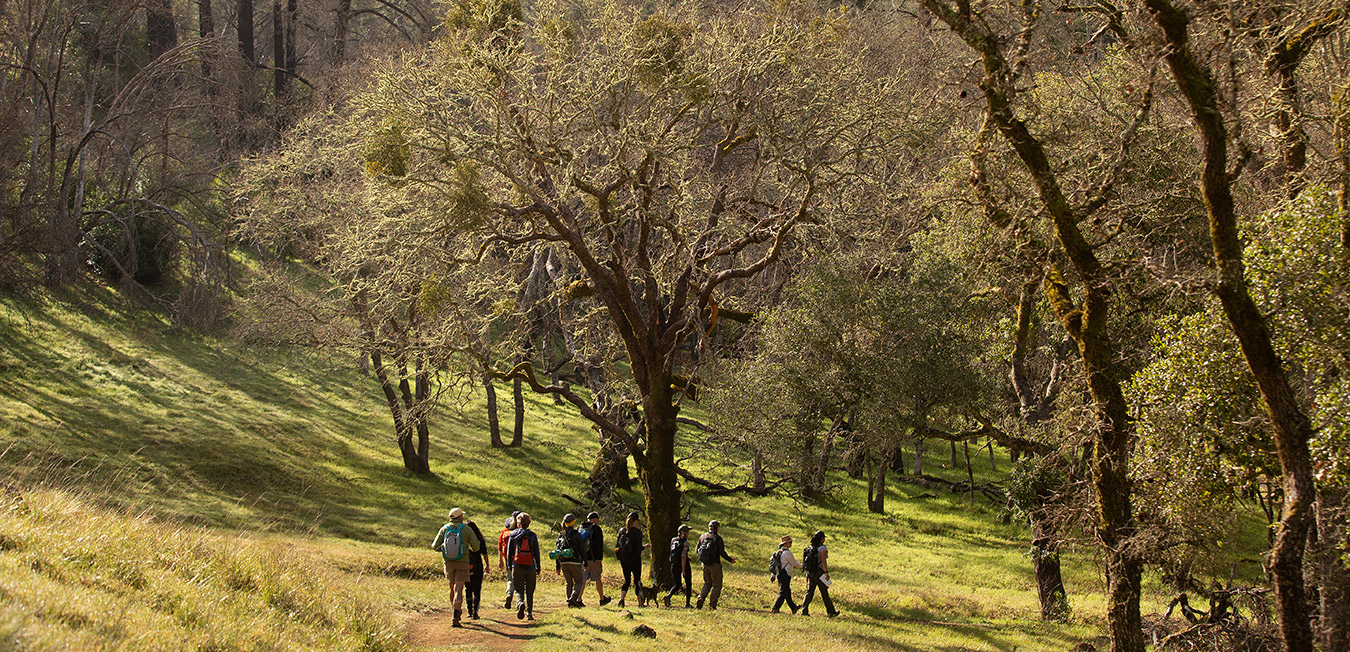 The properties listed below are the newest additions to the Regional Parks system. We are developing "master plans" to guide the future amenities and operations at each site. This planning process typically takes about three to five years and includes significant environmental review and community engagement. These properties are not yet open to the public except during guided hikes and "Park Preview Days."
For more information or to find upcoming hikes and preview days, click on the park names below and scroll to the "calendar" links within the park pages.
To see all planning projects managed by Regional Parks, go to the planning project directory.
This 1,290 acre property on Nuns Canyon Road in Glen Ellen, was previously owned and managed for more than a decade by the Sonoma Agricultural Preservation and Open Space District as Calabazas Creek Open Space Preserve. Rich in cultural history, the property is located near the eastern border of the traditional territory of the Coast Miwok, with the Wappo to the east and Southern Pomo tribal territories to the north. One of the most famous former landowners was Mary Ellen Pleasant, a former slave turned civil rights leader and San Francisco entrepreneur in the late 1800s, who named the property Beltane Ranch.
This 335-acre coastal property is located just north of Bodega Bay is bordered by Sonoma Coast State Park to the west, a private ranch to the north, Salmon Creek to the south and a private property, also protected by the Sonoma County Agricultural Preservation and Open Space District conservation easement, to the east. The property is primarily open grassland, which affords spectacular views of the ocean, and sequesters carbon to help mitigate the effects of climate change.
The 1,192-acre future regional park is located near Mark West Springs and Porter Creek roads in the southern part of the Mayacamas Mountains above Santa Rosa. Its boundaries encompass Mill and Porter creeks, which both feed into Mark West Creek, a significant tributary of the Russian River, which is designated as critical habitat for endangered species such as steelhead trout and spawning coho salmon.
This 515-acre future park is located at the southern edge of Monte Rio, and will be the first regional park in this part of the county. The park will create hiking, biking and outdoor education opportunities for Monte Rio and nearby Bohemian Highway communities like Camp Meeker, Tyrone and Occidental, and serve to preserve important habitat such as the creeks and streams that flow into Dutch Bill Creek, a major tributary of the Russian River.
The Russian River Parkway aims to provide safe, welcoming and environmentally friendly river access for fishing, picnicking, paddling, and other water activities near the city of Cloverdale. All three river access points will include parking improvements, miles of new access trails, and amenities like restrooms, picnic tables, benches and scenic viewing areas.
This expansive 1,236-acre coastal property is a mosaic of coastal grasslands, wildflowers, rock outcrops, bay-oak woodlands and redwood-Douglas fir forests, and supports special status species such as Townsend's big-eared bat and American badger. Adjacent to thousands of acres of Sonoma Coast State Park on one side and protected private lands on the other, the Wright Hill property is a key piece in the ongoing efforts to protect lands stretching from Bodega Bay to the Jenner Headlands.