About Us
Sonoma County Regional Parks includes more than 50 parks and beaches from Petaluma to Gualala and Sonoma to Bodega Bay. Many offer wild landscapes and miles of trails. Others feature sports fields, playgrounds, and campgrounds. Regional Parks also manages the county's largest ocean marina and largest extracurricular environmental education center.
Mission
Regional Parks preserves irreplaceable natural and cultural resources and offers opportunities for recreation and education that enhance the quality of life and well-being of Sonoma County's residents and visitors.
Vision
Sonoma County's parks and trails are core to the health and wellness of individuals, families, and communities. Our parks and programs inspire people and provide opportunities for them to connect mind, body, and spirit. Sonoma County Regional Parks is a model organization passionately protecting land, stewarding natural and cultural resources, and providing public access to the outdoors.
Values
Innovation, equity, inclusion, sustainability, accessibility, and accountability
Social Equity Statement
Sonoma County Regional Parks is committed to ensuring all residents have equitable access to the benefits parks provide. True to the philosophy of public parks is the concept that all people - no matter the color of their skin, age, income level, ability, gender identity, sexual orientation, religion, country of origin, or language - can enjoy programs, places, and spaces on common ground. Parks build communities by creating welcoming and inclusive environments.
We work to ensure all people have access to parks and are involved in developing park services. We focus on quality educational and recreational programs, safe facilities, investing in projects that address identified disparities, and supporting policies that help our most vulnerable communities.
We believe in equitable access to parks for all to create a just, healthy, and resilient community.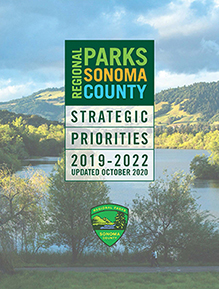 Strategic Priorities 2019-2022 (Updated Oct. 2020)
Sonoma County's parks and trails are core to the health and wellness of individuals, families, and communities. Our parks and programs inspire people and provide opportunities for them to connect mind, body, and spirit. Sonoma County Regional Parks is a model organization passionately protecting land, stewarding natural and cultural resources, and providing public access to the outdoors.

;