Andy's Unity Park
3399 Moorland Avenue, Santa Rosa, CA 95407
Google Maps™ Directions
Local Weather
Andy's Unity Park is a 4.4-acre park in the Moorland Avenue neighborhood of southwest Santa Rosa.
The park includes a large natural turf field, the Jeff Bodwin Community Garden, a dog park, basketball court, skate plaza, playground, picnic and gathering spaces, pathways, and natural spaces. It also features a memorial area dedicated to Andy Lopez, a 13-year-old neighborhood youth who was fatally shot at the undeveloped site in 2013.
The park opened in June 2018 following a collaborative park design and naming process with neighborhood residents.
Major funding came from the County of Sonoma, the Sonoma County Agricultural Preservation and Open Space District, and the California Department of Housing and Community Development.
The Jeff Bodwin Community Garden is supported with funding from Kaiser Permanente and is coordinated by local nonprofit, LandPaths. For information about gardening opportunities, contact Jonathan Bravo at jbravo@landpaths.org.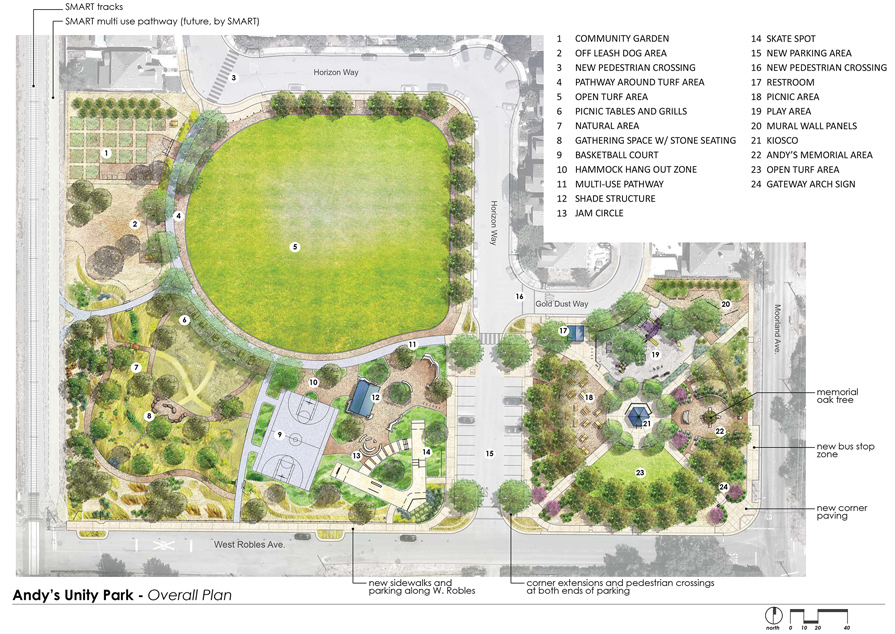 The following park areas correspond with the numbers on the above map:
Community Garden
Off Leash Dog Area
New Pedestrian Parking
Pathway around Turf Area
Open Turf Area
Picnic Tables and Grills
Natural Area
Gathering Space with Stone Seating
Basketball Court
Hammock Hang Out Zone
Multi-Use Pathway
Shade Structure
Jam Circle
Skate Spot
New Parking Area
New Pedestrian Crossing
Restroom
Picnic Area
Play Area
Mural Wall Panels
Kiosco
Andy's Memorial Area
Open Turf Area
Gateway Arch Sign
Upcoming events at Andys Unity Park