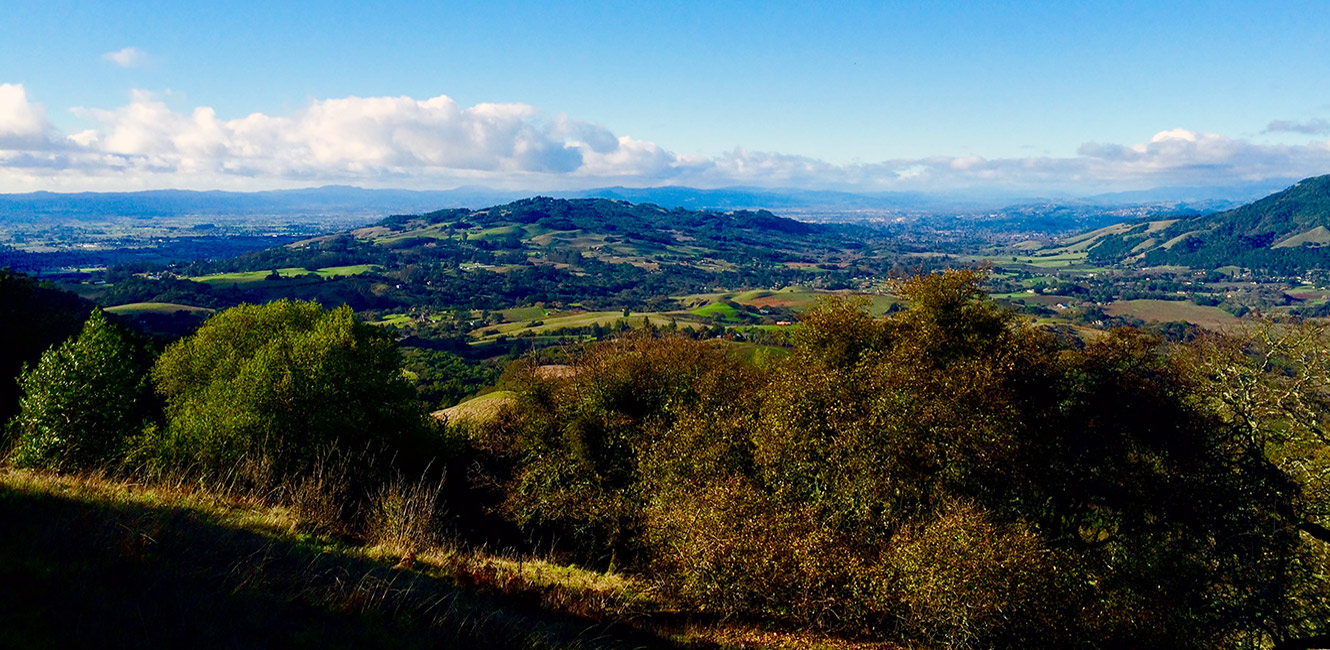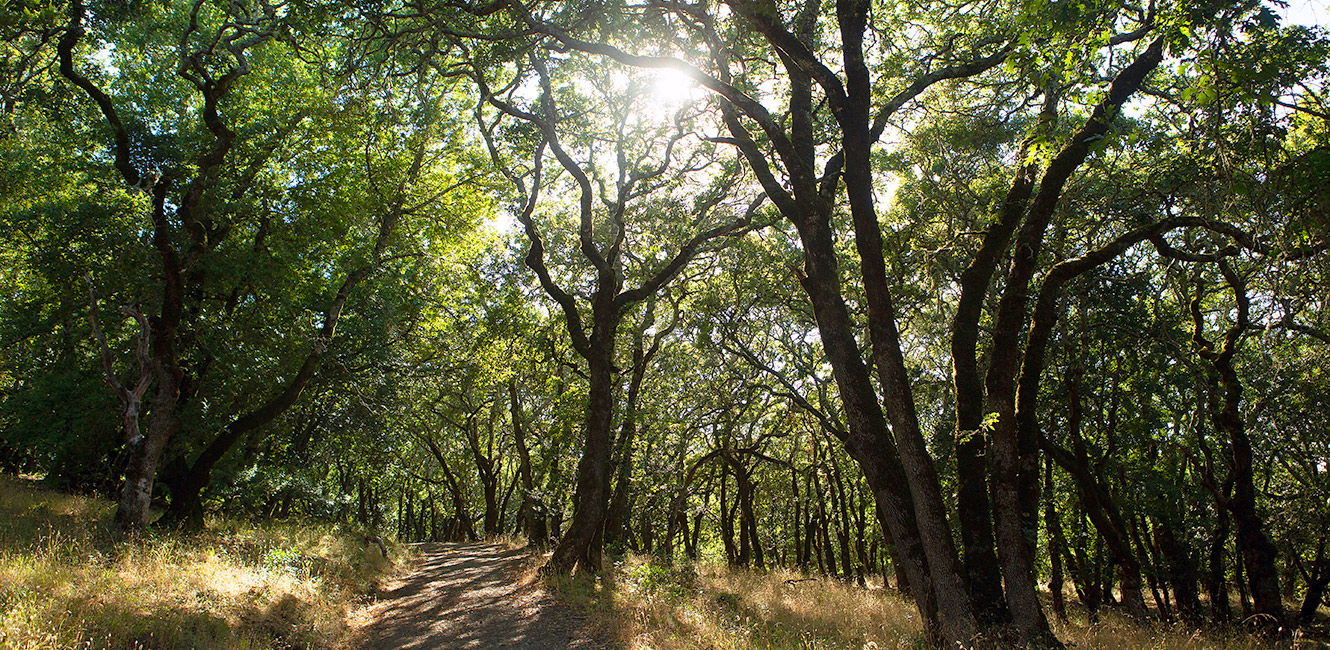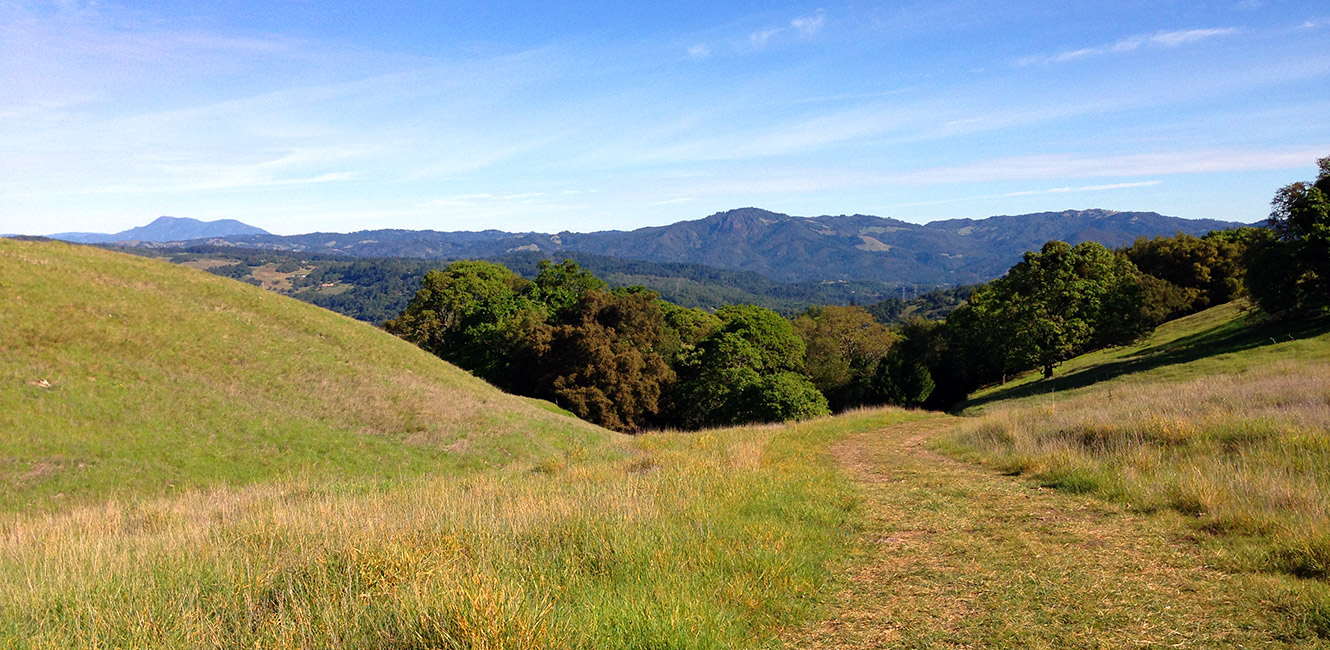 North Sonoma Mountain Regional Park and Open Space Preserve
5297 Sonoma Mountain Road, Santa Rosa, CA 95404
Google Maps™ Directions
Local Weather
Hours
7 a.m. to sunset
Parking
$7 or free for members
Dogs
Not allowed on trails
North Sonoma Mountain Regional Park and Open Space Preserve is an 820-acre park located about 5 miles southeast of Santa Rosa. The park includes a 4-mile section of the Bay Area Ridge Trail, which connects to adjacent Jack London State Historic Park.
Trails
North Sonoma Mountain Ridge Trail
Length: 3.8-miles one way
Hiking Time: About three hours one-way at a moderate pace
Difficulty: Moderate to strenuous
The North Sonoma Mountain Ridge Trail is approximately 4 miles and climbs to nearly 2,000 feet, connecting to the western boundary of Jack London State Historic Park. This trail appeals to hikers seeking a moderate to the strenuous outing. Hikers wanting an easier walk can return at any point before reaching Jack London.
The trail begins near a grove of coast redwoods and a footbridge over the south fork of Matanzas Creek. It crosses open fields, and through gradual switchbacks, climbs the mountain's north slope through stands of oaks and bay laurels and fields of native bunchgrass.
Most of the trail is forested though some sections open to stunning views of the Santa Rosa Plain, Bennett Valley and Sonoma Valley. At points, hikers are treated to 180-degree views of Taylor and Bennett mountains, Mount Saint Helena, Hood Mountain, Sugarloaf Ridge and other North Bay peaks. Winter and spring hikers will see vernal pools and colorful wildflowers. At the connection with Jack London, hikers can continue into the state park and explore its 26-mile trail network.
The trail is a piece of the larger Bay Area Ridge Trail, an evolving effort to create 550 miles of continuous public trail ringing San Francisco Bay. Segments of the Bay Area Ridge Trail also are located within Jack London. With the opening of North Sonoma Mountain, there are now about 9 miles of Bay Area Ridge Trail on the mountain.
Umbrella Tree Trail
Length: 1 mile one way
Hiking time: One hour
Difficulty: Moderate
The Umbrella Tree Trail is a steady climb of about 1 mile to a giant California bay tree cluster and gorgeous views. The trail begins near the accessible parking area above the ranger residence and follows a former ranch road through forests of oaks and bays. Most of the climb is shaded, but the last section opens to expansive grasslands.
Hikers will find the Umbrella Tree standing sentinel at the edge of the mountain, at an elevation of about 1,500 feet. To the west are uninterrupted views of Santa Rosa, to the north are sweeping views of Bennett Valley, and adjacent to the tree is a lone picnic table perfect for taking in the sights.
Trail Notes: Bring your own water. Water is not available in the park. Trails are open to hikers, bikers, and equestrians, though bikes on the Ridge Trail are limited to the first 2 miles. We recommend equestrians first visit without their horses to acquaint themselves with the park entrance and trailer access.
Geography
North Sonoma Mountain Regional Park and Preserve stretches from south of Bennett Valley to the western boundary of Jack London State Historic Park in Glen Ellen. The park entrance is about 5 miles southeast of Santa Rosa.
With its peak rising nearly 2,300 feet, Sonoma Mountain is a defining feature of central Sonoma County. This park, which opened in 2015, provides the first regular public access to the mountain's north slope.
Sonoma Mountain is about equal distance from Santa Rosa, Rohnert Park, Petaluma, and Sonoma. It is one of several high points in the range known as the Sonoma Mountains, with the others being Taylor Mountain, Bennett Peak, the east ridge of Tolay Lake Regional Park, and Cougar Mountain. The east side of Sonoma Mountain is the backdrop for Sonoma Valley, and the west side rises along Highway 101 between Santa Rosa and Petaluma.
The park includes the headwaters to two branches of Matanzas Creek, the only remaining coast redwood groves on the mountain's north side, large areas of continuous oak woodlands, and a vernal pool with a rare buttercup plant species.
The park supports the Sonoma Valley wildlife corridor, providing habitat for mountain lions, bobcats, golden eagles, western pond turtles and other animals.
Entrance
The park entrance is along Sonoma Mountain Road just east of Pressley Road.
Dogs
Dogs are not permitted on trails.
Electric Vehicle Charging Station
A solar-powered Electric Vehicle Charging Station was installed in the park in September 2023. Use of the charging station is included in the park entry fee. Read the press release.
Accessibility
The trailhead has an accessible restroom. Several accessible parking spaces are available, including one located near a vista point. The first 800 feet of the Ridge Trail are wheelchair accessible on a compacted gravel surface, and lead to a creekside picnic area in the redwoods.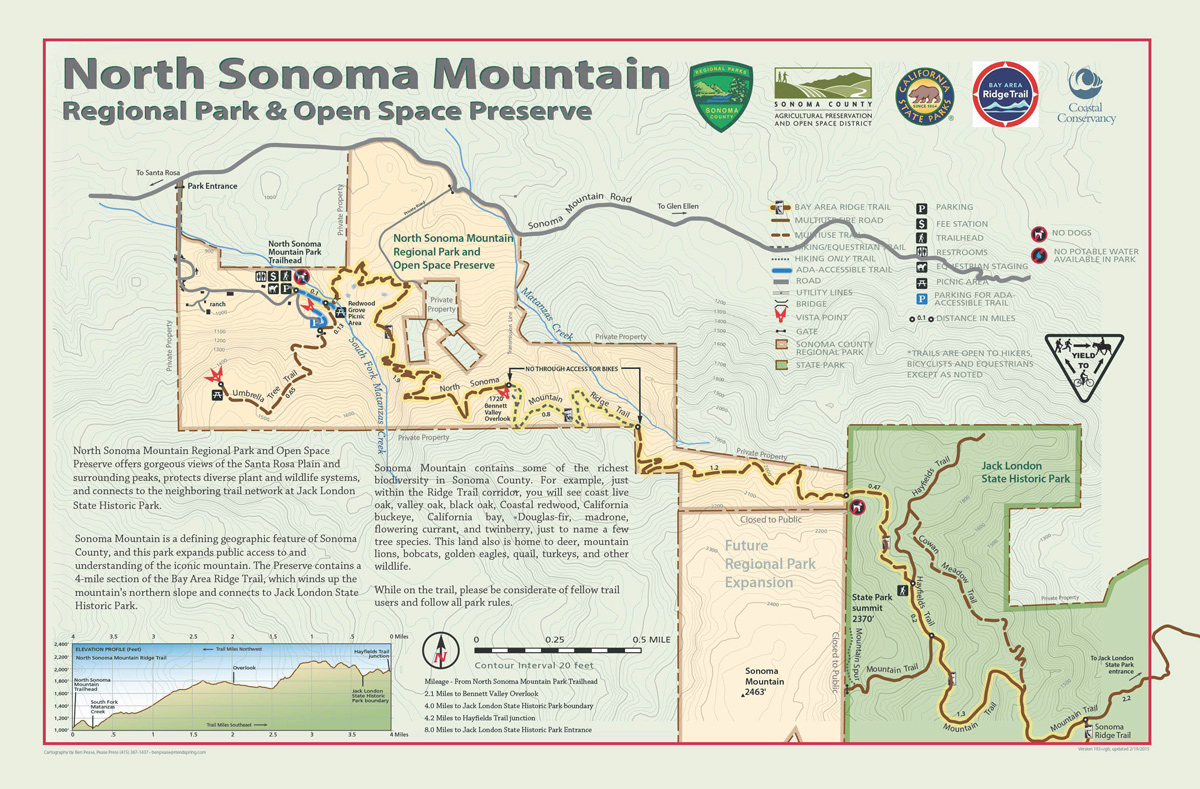 Mileage - From North Sonoma Mountain Trailhead
2.1 miles to Bennett Valley Overlook
3.7 miles to Jack London State Historic Park boundary
4.2 miles to Hayfields Trails junction
8.0 miles to Jack London State Historic Park Entrance