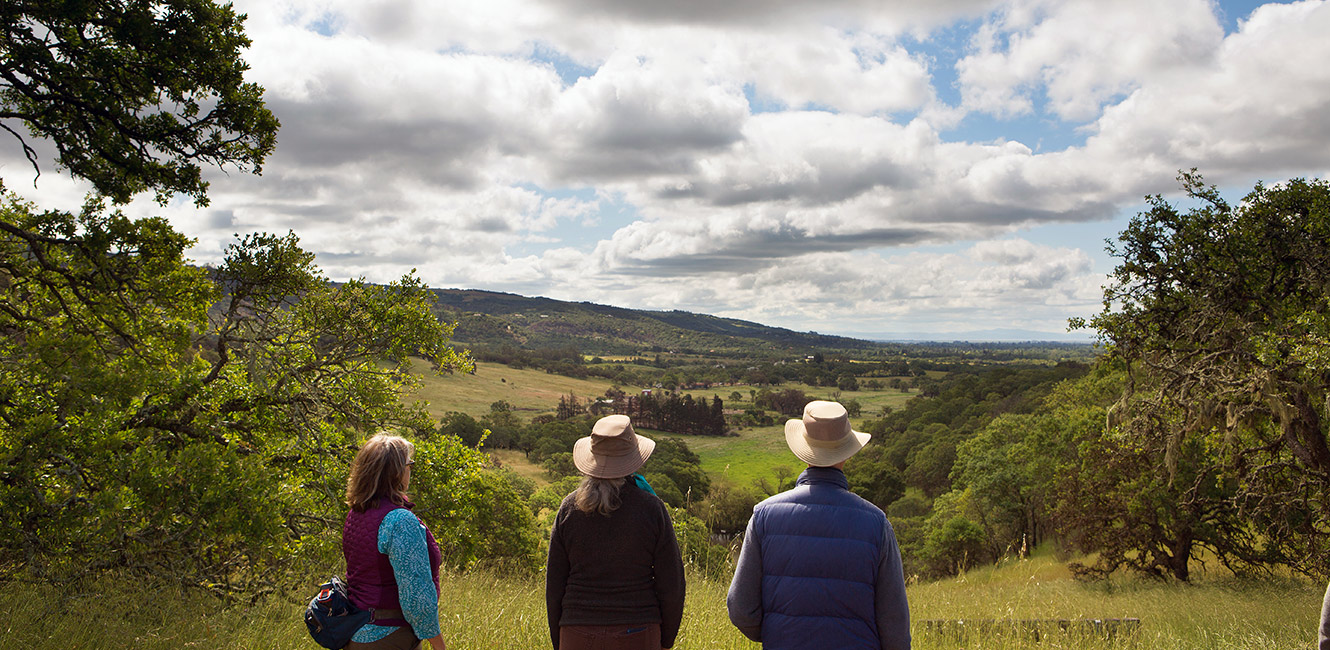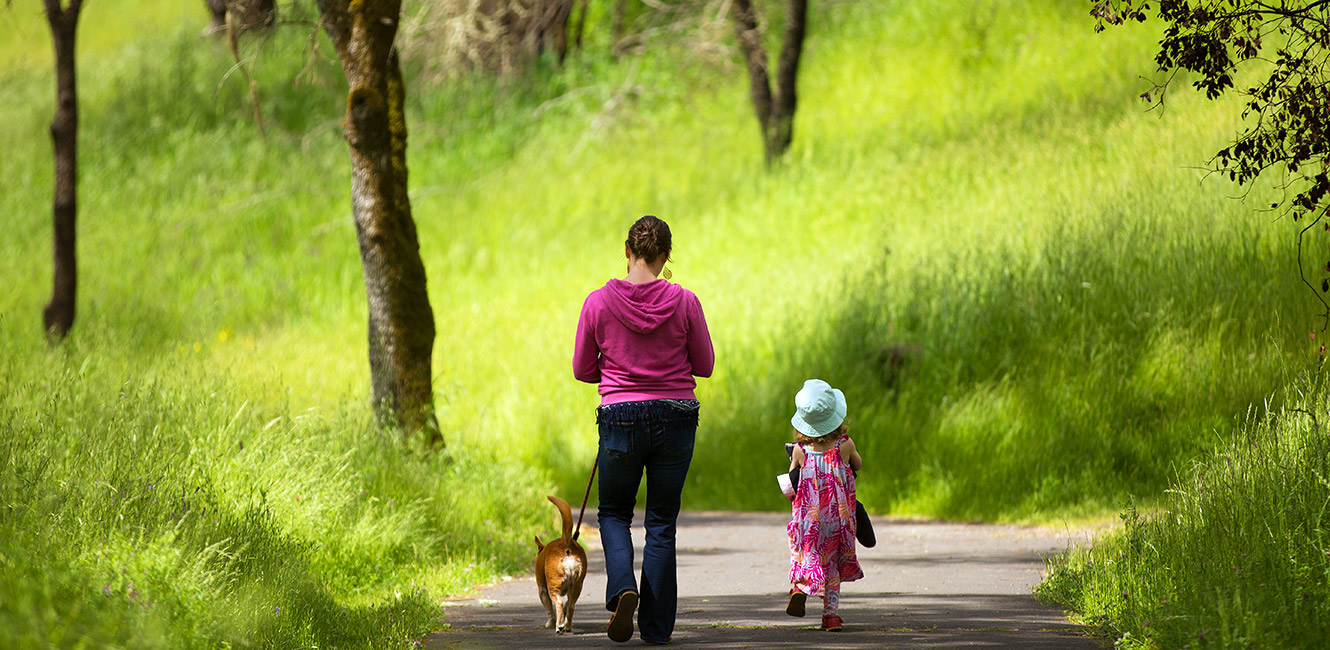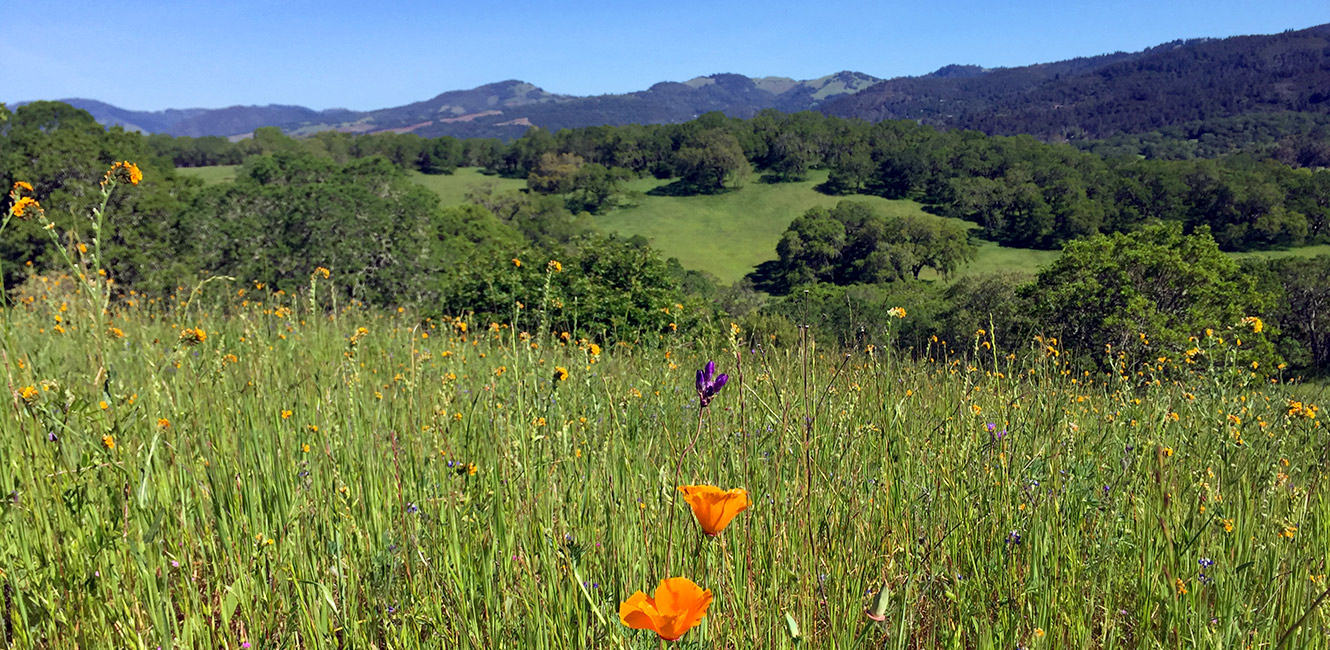 Sonoma Valley Regional Park
13630 Highway 12, Glen Ellen, CA 95442
Google Maps™ Directions
Local Weather
Sonoma Valley Regional Park is in the heart of the Sonoma Valley, adjacent to the Wine Country town of Glen Ellen. The park is known for its oak woodlands and features several miles of trails, including a paved, 1.2-mile path largely under the canopy of oaks. Unpaved trails connect to surrounding hillsides and ridges, offering looped hiking options.
The park entrance along Highway 12 features a grassy picnic and barbecue area under the shade of large oaks. Spring brings colorful displays of poppies, lupine and other wildflowers.
Trails
The park's main trail, the Valley of the Moon Trail, runs through an oak woodland between Highway 12 and Arnold Drive. Trails linking to surrounding ridges feature valley views. Trails are open to hikers, bikers, and equestrians.
The paved Valley of the Moon Trail runs through the center of Sonoma Valley Regional Park for 1.2 miles one way and is ADA-accessible. The trail borders a seasonal creek and curves through a beautiful woodland of oaks draped in lichen. Picnic tables are located along the trail.
The 1.15-mile Woodland Star Trail climbs from the Valley of the Moon Trail to a ridge on the park's southern boundary and follows the wooded hillside across the southern edge of the park before descending near Arnold Drive. The trail offers occasional views of Sonoma Valley.
Several smaller trails also connect the Valley of the Moon Trail to the surrounding ridges.
The 1.5-mile Cougar Trail passes through the park's northern boundary and offers views of Sonoma Valley and the Mayacamas Range. The property is an important piece of the Sonoma Valley Wildlife Corridor, a collection of protected lands allowing animals safe crossing on the valley floor.
Wildfire
The 2017 Nuns wildfire burned through Sonoma Valley Regional Park, but left much of the oak canopy intact. The park provides a unique opportunity to see a landscape regenerate from wildfire.
Dog Park
The "Elizabeth Perrone Dog Park" adjacent to the Highway 12 parking area offers a fenced area for dogs to play off-leash.
Accessibility
Paved, wheelchair-accessible trail; accessible picnic areas; and an accessible portable restroom.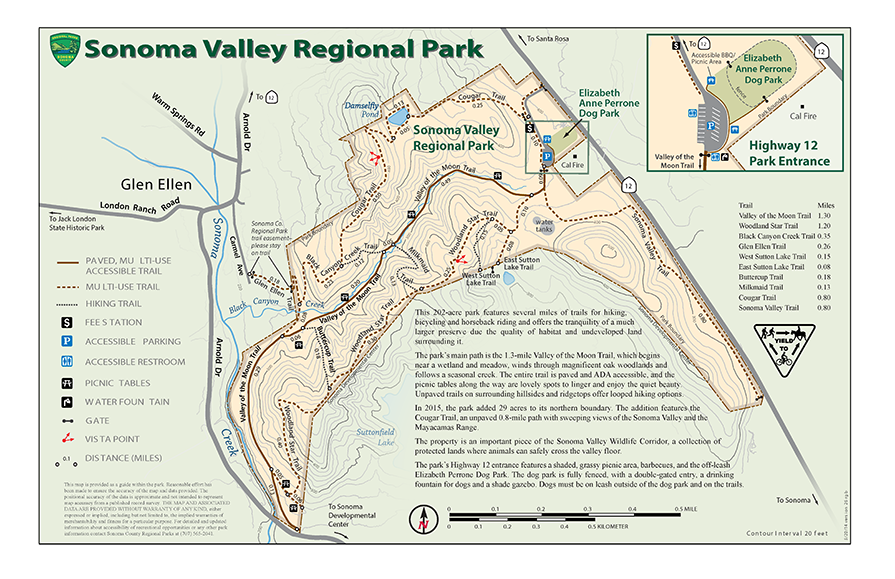 Trail Lengths
Valley of the Moon Trail: 1.3 miles
Woodland Star Trail: 1.2 miles
Black Canyon Creek Trail: 0.35 miles
Glen Ellen Trail: 0.26 miles
West Sutton Lake Trail: 0.15 miles
East Sutton Lake Trail: 0.08 miles
Buttercup Trail: 0.18 miles
Milkmaid Trail: 0.13 miles
Cougar Trail: 0.80 miles
Sonoma Valley Trail: 0.80 miles