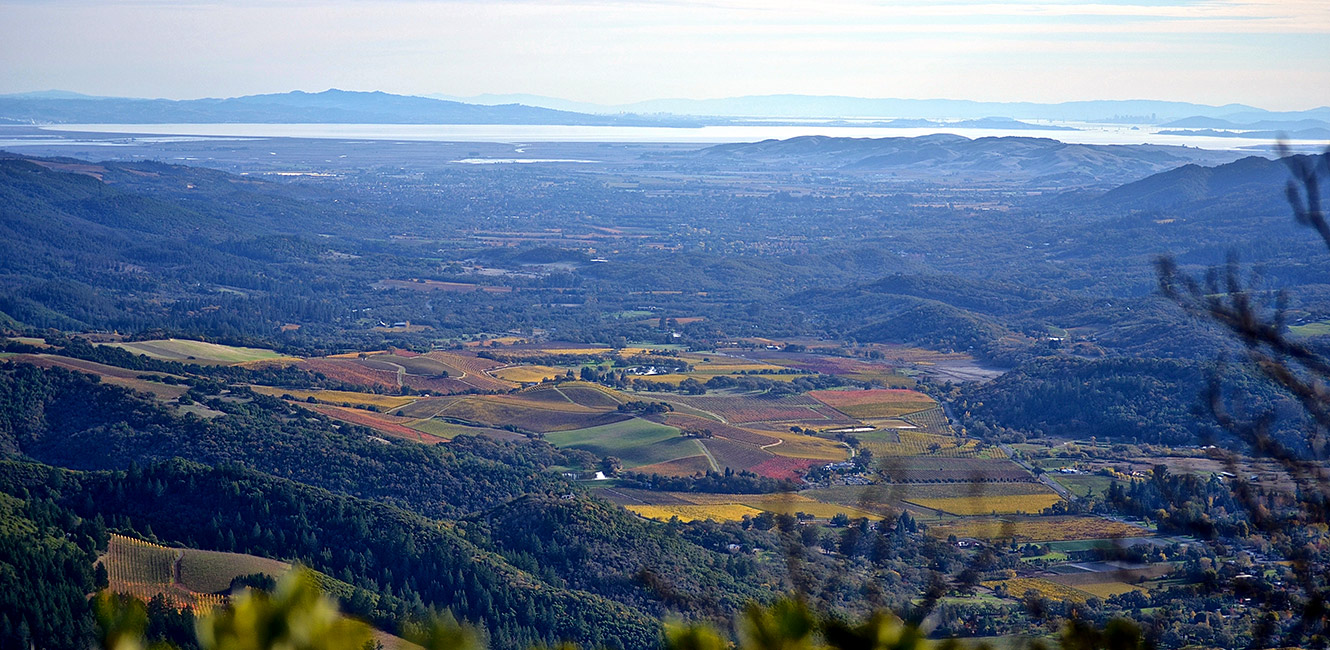 Hood Mountain Regional Park and Open Space Preserve
1450 Pythian Road, Santa Rosa, CA 95409
Google Maps™ Directions
Local Weather
Temporary Partial Closure: The Los Alamos Entrance is currently closed due to storm damage on Los Alamos Road. Azalea Creek picnic area and campground, Summit Trail, Santa Rosa Creek Trail, Alder Glen Trail and parts of Lower Johnson Ridge Trail remain closed due to impacts from the 2020 Glass Fire. See the Park Map or view the Press Release for full fire-related closure details.
Hood Mountain Regional Park and Open Space Preserve is a 2,000-acre wilderness park on the edge of the Sonoma Valley, about 5 miles southeast of Santa Rosa. The park offers more than 19 miles of trails for hikers, mountain bikers and equestrians.
At 2,730 feet, Hood Mountain is the highest peak in the Mayacamas Mountains. Its Gunsight Rock outcropping above Highway 12 offers stunning views of the Sonoma Valley and beyond.
Trails
Hood Mountain Regional Park contains more than 19 miles of trails, the most extensive trail system within the Sonoma County Regional Parks system. Trails climb through mixed-conifer forests, over meadows, and cross several creeks, including the headwaters of Santa Rosa Creek.
The terrain is challenging, but the effort is rewarded with both Sonoma and Napa county views of the Mayacamas Mountains as well as views of Bay Area landmarks on clear days. Most trails are considered strenuous, so please plan for ample time to complete hikes.
The newest trail at Hood Mountain is the Lawson Trail, which provides several vista points of the Sonoma Valley, Napa hills, and San Francisco and San Pablo bays. The Lawson Trail can be reached via Lower Johnson Ridge Trail at the Pythian Road parking lot.
One of the most popular hikes is to Hood Mountain's summit and the Gunsight Rock overlook just beyond. The summit can be reached via several approaches within the park or from adjacent Sugarloaf Ridge State Park.
A popular, easy-level hike is to Santa Rosa Creek from the Los Alamos Road entrance.
Hood Mountain trails are rugged. Always travel with another person. Potable water is not available in the park, so be sure to bring sufficient water.
Northwest Entrance
Access the park's northwest entrance via Los Alamos Road, a very winding and narrow road. RV's and vehicles with trailers should use extreme caution. Get directions: 3000 Los Alamos Rd, Santa Rosa
Southwest Entrance
Access the park's southwest entrance via Pythian Road. Get directions: 1450 Pythian Road, Santa Rosa
Camping
Hood Mountain features two environmental campsites at Merganser Pond, reached by hiking approximately two miles from the Pythian Road trailhead. Each campsite includes a picnic table and food locker. Pit toilets are nearby. Potable water or electricity are not available.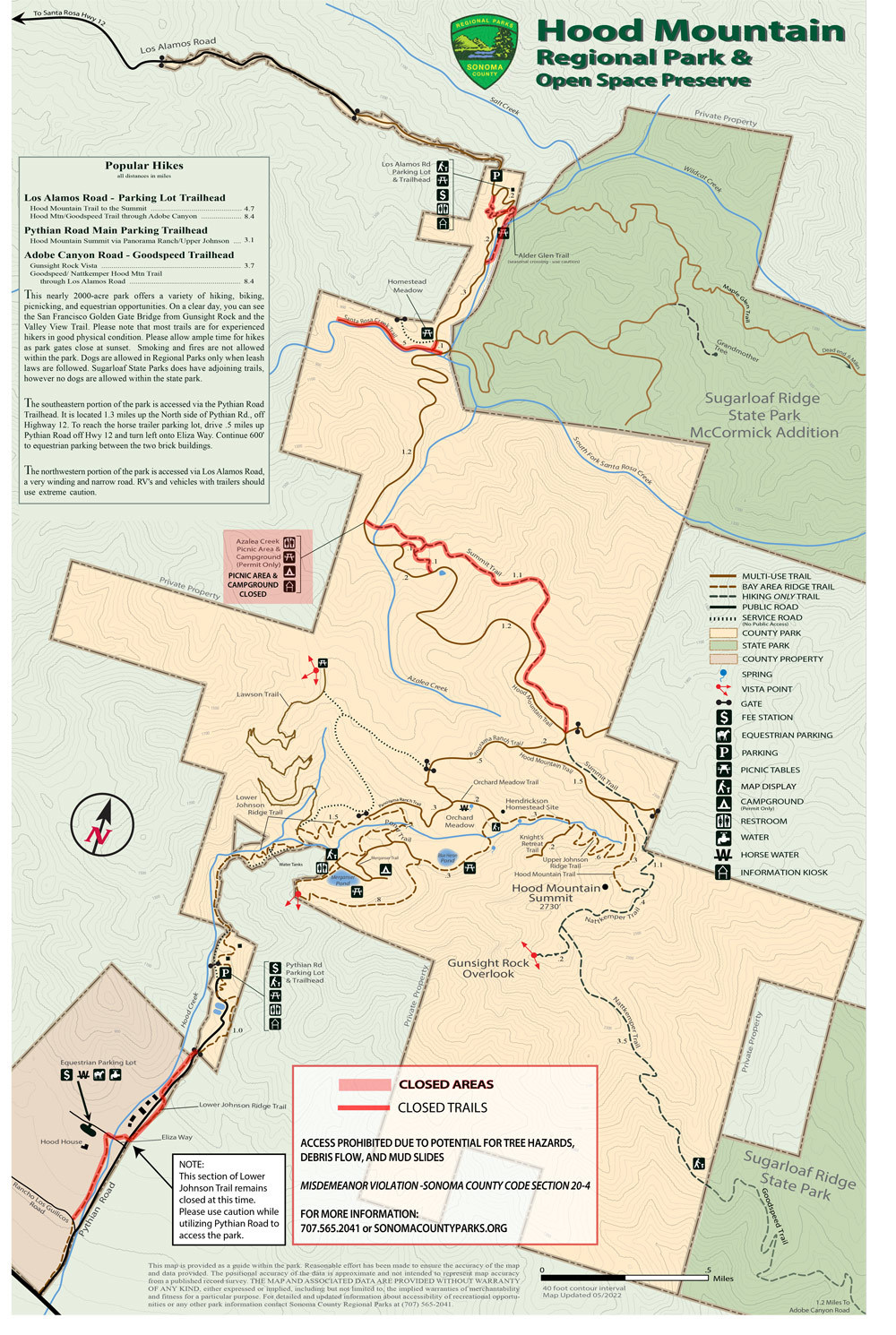 This nearly 2000-acre park offers a variety of hiking, biking, picnicking, and equestrian opportunities. On a clear day, you can see the San Francisco Golden Gate Bridge from Gunsight Rock and the Valley View Trail. Please note that most trails are for experienced hikers in good physical condition. Please allow ample time for hikes as park gates close at sunset. Smoking and fires are not allowed within the park. Dogs are allowed in Regional Parks only when leash laws are followed. Sugarloaf State Parks does have adjoining trails, however no dogs are allowed within the state park.
The southeastern portion of the park is accessed via the Pythian Road Trailhead. It is located 1.3 miles up the North side of Pythian Rd., off Highway 12. To reach the horse trailer parking lot, drive.5 miles up Pythian Road off Hwy 12 and turn left onto Eliza Way. Continue 600' to equestrian parking between the two brick buildings.
The northwestern portion of the park is accessed via Los Alamos Road, a very winding and narrow road. RV's and vehicles with trailers should use extreme caution.
Popular Hikes
Los Alamos Road - Parking Lot Trailhead

Hood Mountain Trail to the Summit: 4.7 miles
Hood Mountain/Goodspeed Trail through Adobe Canyon: 8.4 miles

Pythian Road Main Parking Trailhead

Hood Mountain Summit via Panorama Ranch/Upper Johnson: 3.1 miles

Adobe Canyon Road - Goodspeed Trailhead

Gunsight Rock Vista: 3.7 miles
Goodspeed/Nattkemper Hood Mountain Trail through Los Alamos Road: 8.4 miles