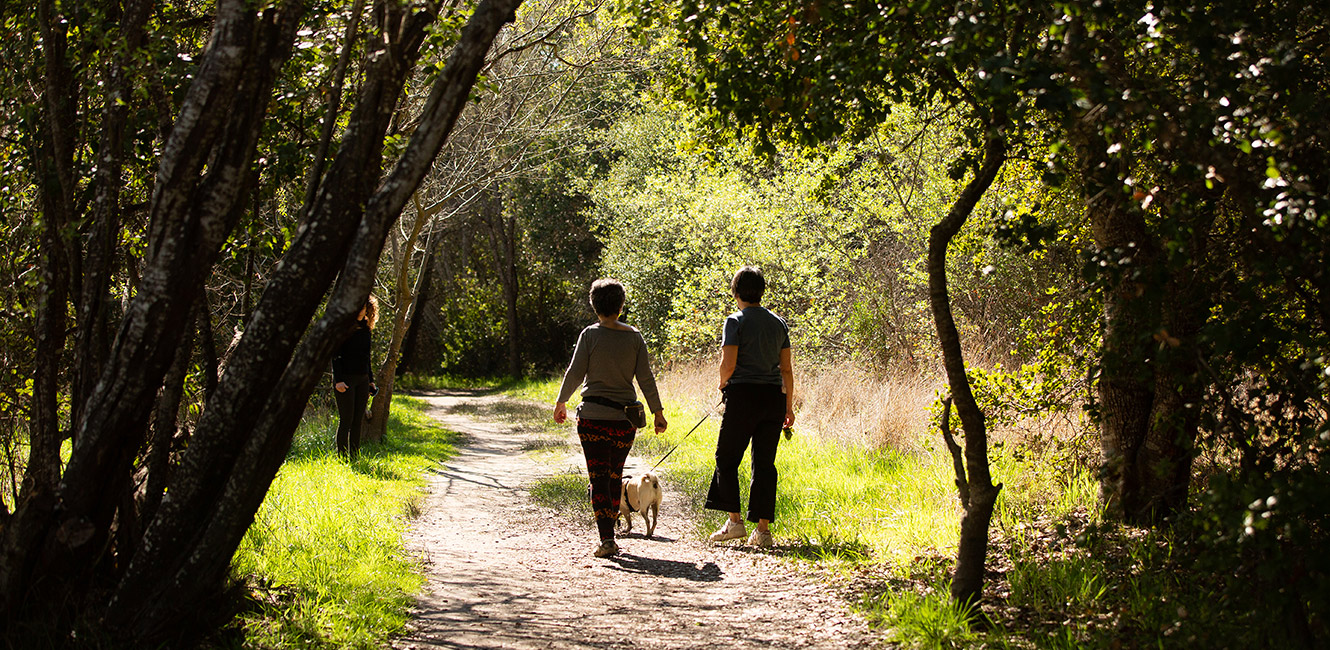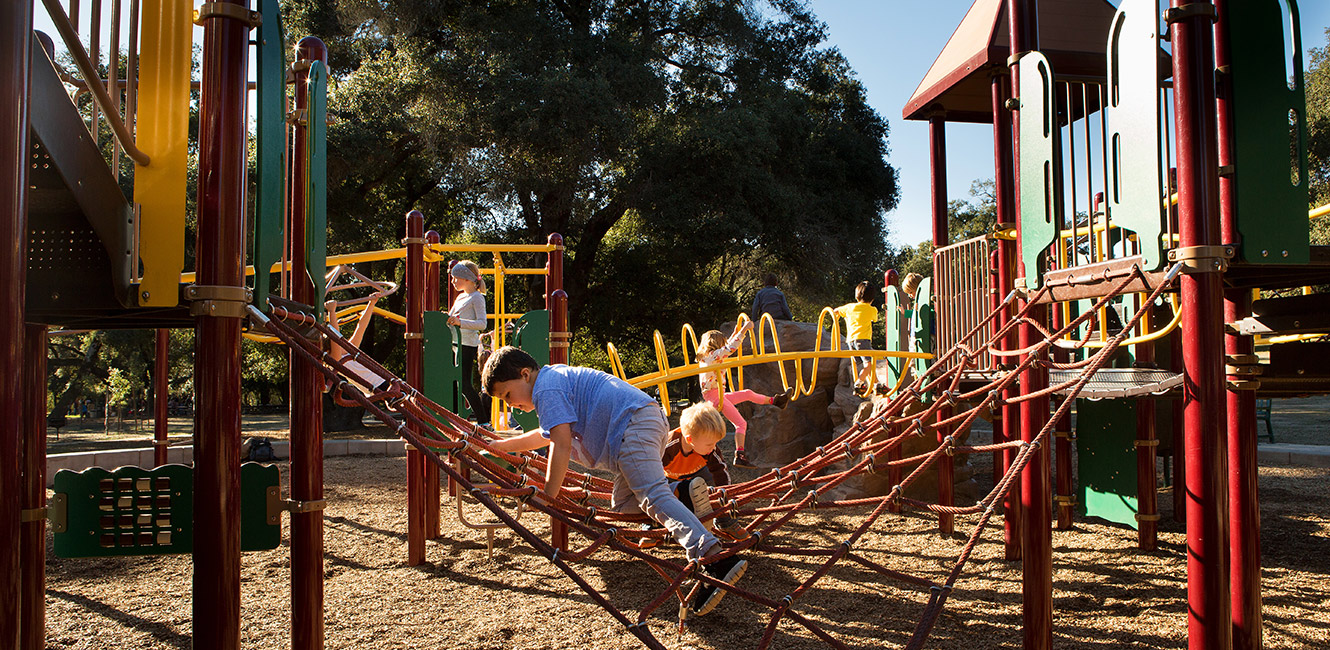 Ragle Ranch Regional Park
500 Ragle Road, Sebastopol, CA 95472
Google Maps™ Directions
Local Weather
Temporary Partial Closure - Dog Park: Starting on Tuesday, Sept. 26, the dog park at Ragle Ranch Regional Park will be closed for maintenance. It will reopen on Wednesday, Sept. 27. The rest of the park will remain open.
Ragle Ranch Regional Park in west Sebastopol features soccer and softball fields, tennis courts, sand volleyball courts, a playground, an off-leash dog park, a peace garden, and group and individual picnic sites with barbecues.
The park is noted for its oaks and includes backcountry trails along the prime bird-watching habitat of Atascadero Creek.
Trails
A paved trail circles the east side of the park, looping past the playground, picnic areas, sports courts and sports fields.
More than 3 miles of unpaved trails loop around the west side of the park and along Atascadero Creek. Trails are lined with willows, ashes, and oaks and lead past meadows and wetlands and over small streams.
Hilltop Trail offers views across the watershed toward western Sonoma County while Blackberry Trail offers a loop around the perimeter of the interior meadows.
Leashed dogs and equestrians are welcome on all trails.
Group Picnics
Ragle Ranch offers four group picnic sites availble for reservation:
Gazebo Picnic Area

Lions Grove Picnic Area

Oak Savanna Picnic Area

Volleyball Picnic Area
For more information or to make a reservation, please call (707) 565-2041 from 8 a.m.-5 p.m. Monday-Friday.
Dog Park
Leashes are not required in the enclosed dog park. Special "small dog" hours are offered daily from 11 a.m.-noon and 3-4 p.m. The dog park includes a small agility course.
Electric Vehicle Charging Station
A solar-powered Electric Vehicle Charging Station was installed in the park in September 2023. Use of the charging station is included in the park entry fee. Read the press release.
Fog to Bog Quest
Sonoma County Regional Parks partnered with the Community Clean Water Institute and the Atascadero/Green Valley Watershed Council to create the "Fog to Bog watershed quest" (PDF: 1.21 MB) at Ragle Ranch.
A quest is an interactive treasure hunt that teaches you about special places. By going on this quest, you can learn about Ragle Ranch's seasonal wetland, make water-quality observations, and have fun while adventuring in this section of the Atascadero/Green Valley watershed.
Print or download your Fog to Bog watershed quest (PDF: 1.21 MB) and begin your adventure at the top of the Blackberry Trail.
Accessibility
The park features accessible group-picnic areas, an accessible playground and accessible paved paths around the upper area of the park. However some sections exceed current accessibility standards for slope. Several accessible parking areas are provided serving the upper area of the park. Accessible parking is also provided at the Veteran's Memorial Grove and a .55 mile native earth trail provides a loop through the open meadow and wetlands. The soils can be sandy due to the alluvial deposits, which creates difficulty for mobility assisted devices such as wheelchairs and walkers. The back undeveloped area of the park has trails that traverse wetlands and require seasonal closures due to flooding.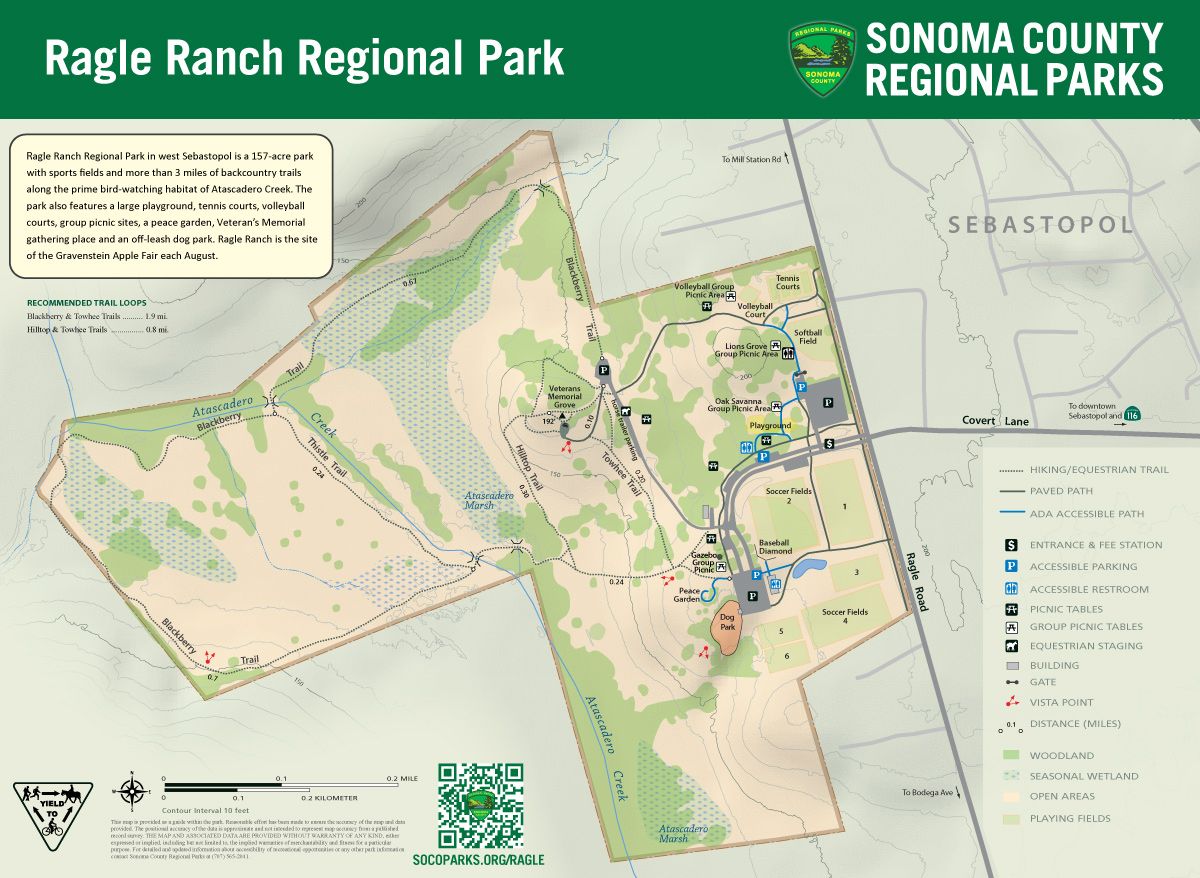 Recommended Trail Loops
Blackberry & Towhee Trails: 1.9 miles
Hilltop & Towhee Trails: 0.8 miles
Upcoming events at Ragle Ranch