Spring Lake 50th Anniversary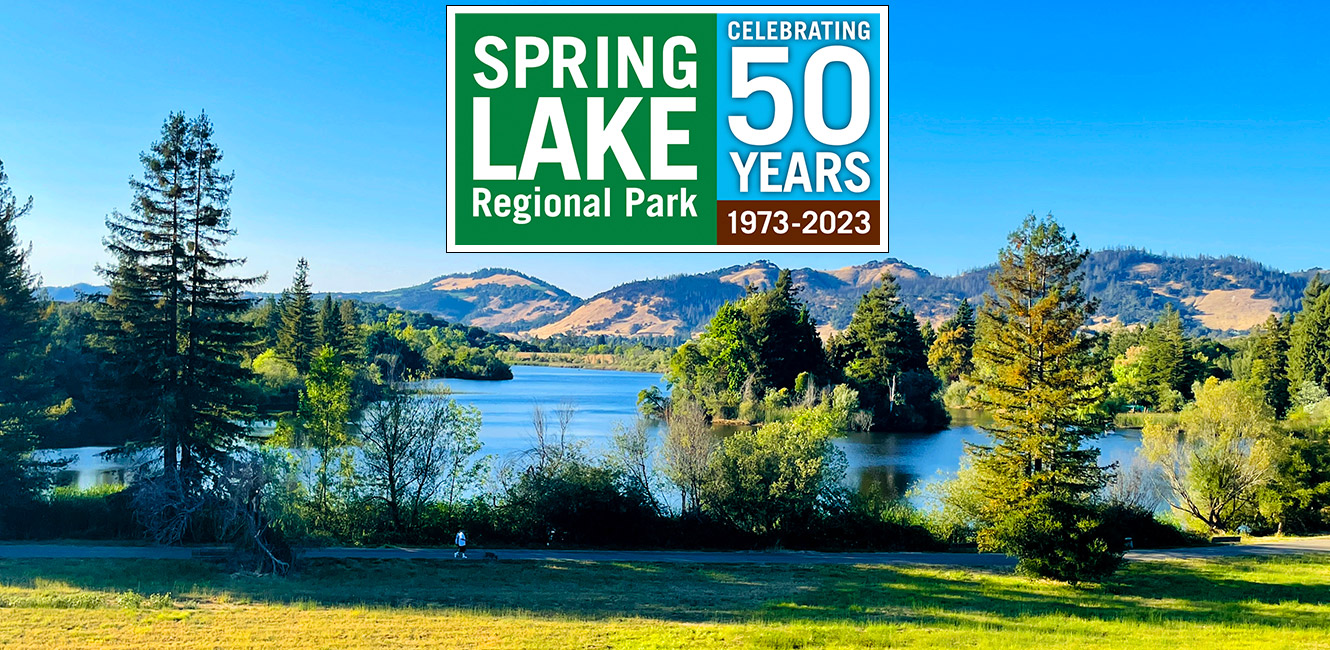 Spring Lake Regional Park is turning 50!
Enjoy an improved trail, updated picnic and campground amenities, a new café and other upgrades as we commemorate the 50th anniversary of the park's development.
What's new at Spring Lake in 2023
New asphalt and striping on much of the park's paved trail by the end of 2023
A new café concession at the swimming lagoon opening this summer, with new paint, plumbing and patio improvements
New tables, BBQs, and food lockers at group picnic areas and all campsites by end of summer
Freshly painted bathrooms and bathhouses
New asphalt and striping for the parking lot at the Shady Oaks picnic area and Environmental Discovery Center
New asphalt and striping for the boat launch by the end of 2023
Redesigned, hands-on activities at the Environmental Discovery Center and a new shade structure for the center's patio
New signs installed throughout the park by the end of 2023
New roofs, windows and paint for the park entry stations by the end of 2023
Installation of new sewage ejector pumps by the end of 2023
Guided hikes, paddles, bird walks and other outings that highlight the history and natural resources of the park
A brief history of Spring Lake Regional Park
Spring Lake Regional Park is a beloved community asset and one of the most popular parks in the county. In the half century of its existence, it has developed into a recreation and outdoor education destination that enhances the quality of life for more than 650,000 residents and visitors annually.
Visitors today may not realize that the beautiful body of water at the center of the 320-acre park is not a naturally occurring lake. It's a flood-control reservoir the Sonoma County Water Agency (Sonoma Water) built between 1961 and 1964.
Spring Lake (on the left) under construction in 1963. The main dam (center), without a paved trail, runs parallel to Montgomery Drive, next to an orchard, and the new Channel Drive bridge over the Santa Rosa Creek diversion (spillway) is in the foreground. Photo courtesy of Sonoma Water.
The reservoir consists of three steel and concrete dams, spillways, channels and flow regulators, and represents one of Sonoma Water's most ambitious flood protection projects. The infrastructure diverts floodwaters from Spring Creek and Santa Rosa Creek into Spring Lake, alleviating seasonal flooding for downtown Santa Rosa.
The lake is designed to accommodate water equal to a 100-year flood (in other words, a storm that, based on past records, has a 1 in 100 – or 1 percent – chance of occurring in any year.) Only once since the lake's construction, in 1986, has flooding been so severe as to exceed Spring Lake's capacity.
Spring Lake flooding on Feb. 1, 1975. Photo courtesy of Sonoma Water.
Official development of Spring Lake Regional Park began in 1973 when the County of Sonoma and Sonoma Water signed a co-operating agreement to develop the land surrounding the reservoir for recreational use. The agreement calls for Sonoma County Regional Parks to manage the park while Sonoma Water owns the land and manages the water infrastructure. This partnership continues today.
Park development began with the paving of a trail around the lake, construction of a visitors center, picnic areas, boat ramp, campground swimming lagoon and bathhouses. Spring Lake Regional Park officially opened in spring of 1974, with 35,000 recorded visitors in its first year.
Spring Lake and swimming lagoon (at right) in July 1975. Photo courtesy of Sonoma Water.
Recreation services grew to include multi-use trails for hikers, cyclists and equestrians; a water park; boat rentals; summer camps; fishing; wildlife viewing; the county's largest environmental education program for elementary school children; and the hosting of annual sporting events and community gatherings. Generations of Santa Rosa residents and visitors have made lasting memories at Spring Lake Regional Park over the past five decades.
It's worth noting that when Spring Lake floods during wet winters, it's behaving exactly as it was designed to by diverting and slowing flood waters to protect the city of Santa Rosa and the thousands of residents who now call the neighborhoods around the park home. But above all, Spring Lake Regional Park stands as a testament to the value of public recreation and partnerships.