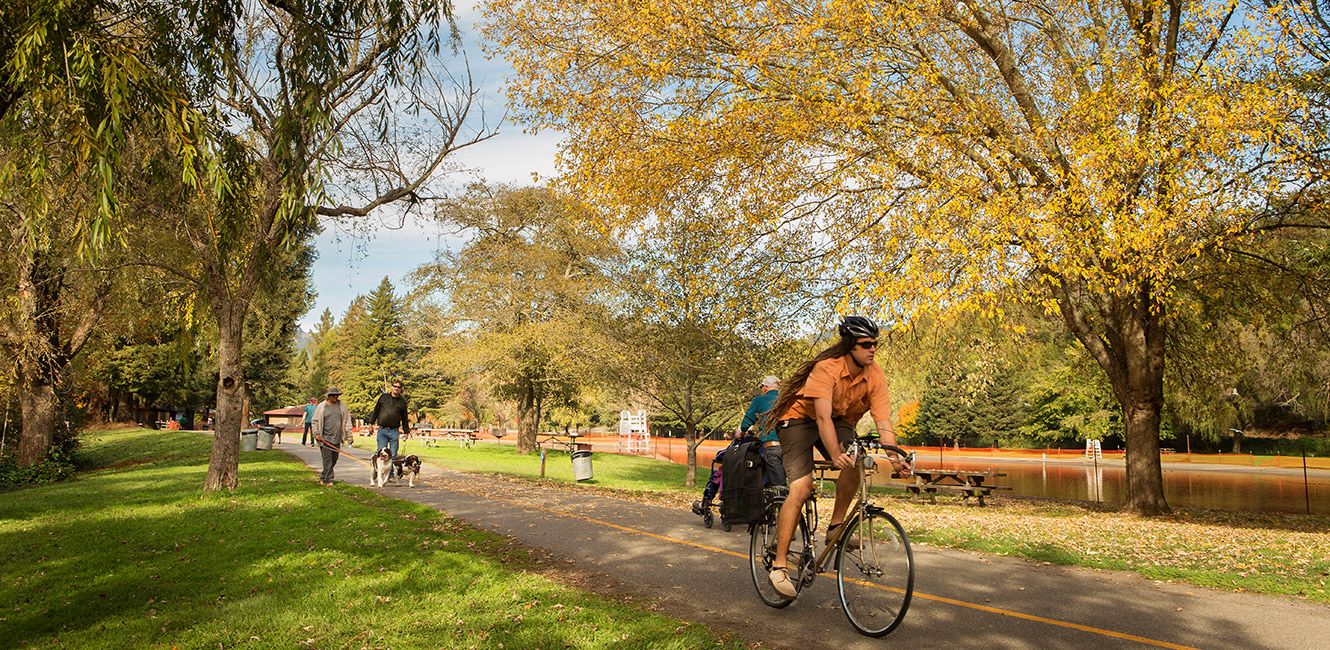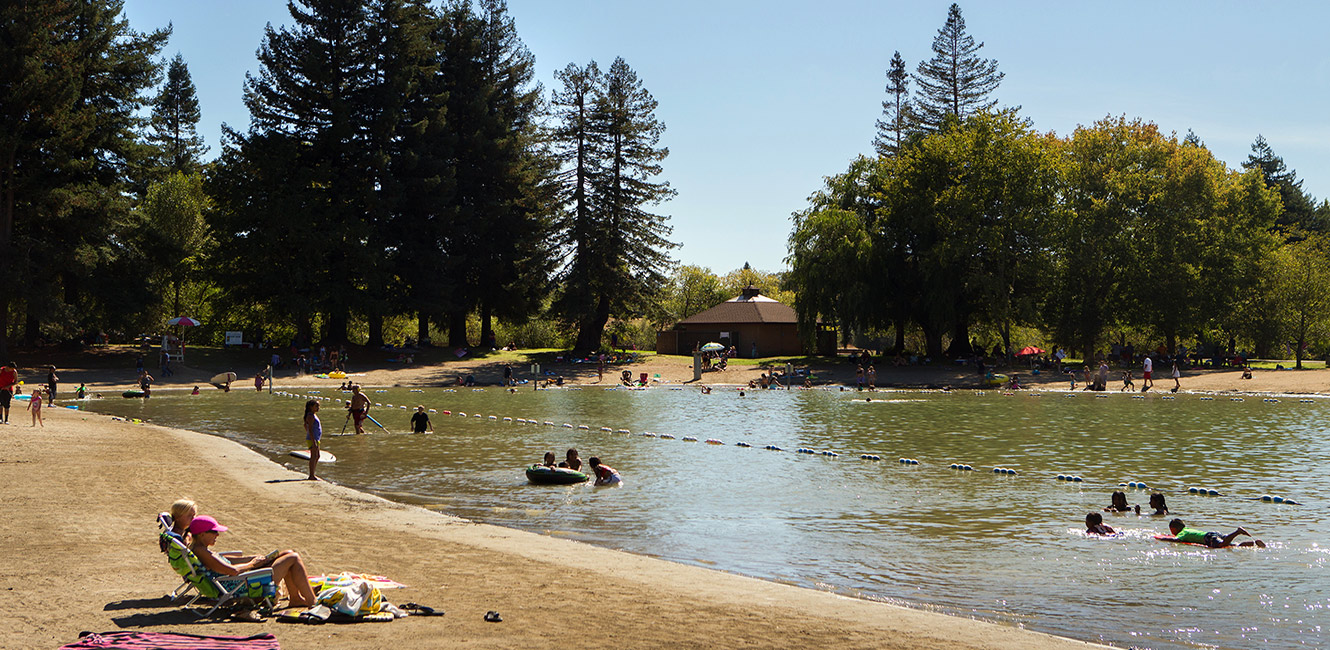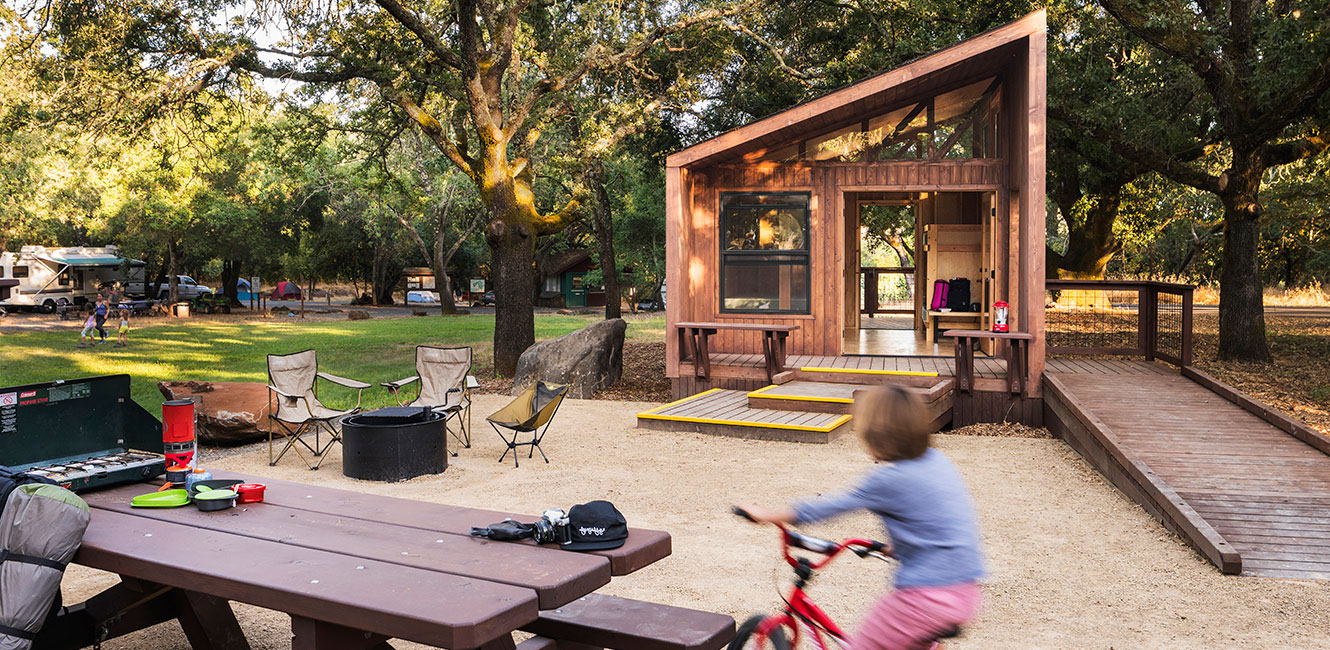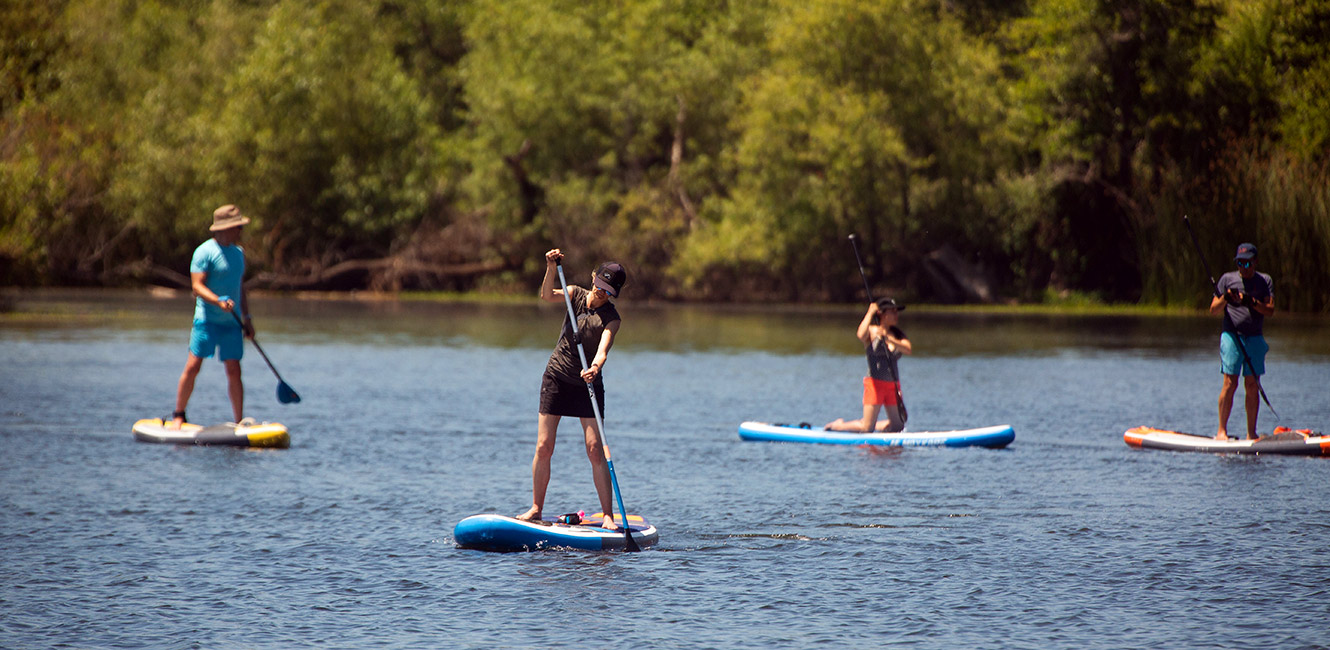 Spring Lake Regional Park
393 Violetti Road, Santa Rosa, CA 95409
Google Maps™ Directions
Local Weather
Hours
7 a.m. to sunset
Parking
$7 or free for members
Dogs
Allowed on leash, except at swimming lagoon no dogs are allowed.
Celebrate a half-century of Spring Lake
Join us in celebrating the 50th anniversary of Spring Lake Regional Park's development. Come along on guided walks, paddles and other outings and learn more about the park's history and natural resources and the improvements we're making to the park throughout the year.
Spring Lake Regional Park in Santa Rosa is one of Sonoma County's most popular parks, featuring trails, boating, camping, picnic areas, the Environmental Discovery Center and a seasonal swimming lagoon, water park and boat rentals.
Entrances
Trails
Spring Lake features nearly 10 miles of trails. The Spring Lake Loop Trail is a 2.3-mile paved loop around the lake with views of forested hillsides. The multi-use trail accommodates walkers, runners and cyclists and is ADA accessible. The trail elevation is mostly flat, with a brief incline to the main dam.
Unpaved trails such as Fisherman's Trail and the Horse Loop intertwine with the paved trail and offer less-traveled routes around the lake. Trails connect to adjacent Trione-Annadel State Park and the city of Santa Rosa's Howarth Park.
Swimming
The Spring Lake swimming lagoon features a water park and recreational swimming from Memorial Day weekend through Labor Day. Lifeguards are on duty daily during the summer. The lagoon area includes a sandy beach, the Sonoma Burger Snack Shack, lawns shaded by redwoods and multiple picnic sites.
The Water Park: The Water Park is open from Memorial Day weekend through Labor Day.features inflatable, floating play structures on the swimming lagoon. Admission is $10 per person per session. Online reservations are highly recommended. Children must be 6 or older, at least 42 inches tall and know how to swim. Learn more about the Water Park.
Swimming: Swimming hours at the lagoon are 10 a.m.-8 p.m from Memorial Day weekend through Labor Day. Admission is free. Life vests are available to use for free.
Water quality: Water in the swimming lagoon is chlorinated, filtered and tested to ensure quality exceeds state standards.
Water Bark dog swim: The Water Bark is a multi-weekend off-leash dog party where pets are invited to play in the lagoon after the summer swim season ends. Learn more about the Water Bark dog swim.
Sonoma Burger Snack Shack
Located at the swimming lagoon, Sonoma Burger's Snack Shack serves burgers, hot dogs, vegan options, seasonal slushees, beer, wine and more. Open Memorial Day weekend through Oct. 1.
Boating
Spring Lake is a 72-acre reservoir for boating (no gas engines) and paddling. All boaters and paddlers must wear a floatation device while on the lake. The lake surface is sometimes marked by azolla, an aquatic fern. Azolla growth varies due to weather conditions, and Regional Parks coordinates treatment to have the most lasting benefit for seasonal boating.
Newanga Avenue entrance: A year-round paved boat ramp for boats up to 16 feet is at the end of the Newanga Avenue entrance. Trailered boats (electric motors only), kayaks and paddleboards can launch here.
Violetti Road entrance:Kayaks and paddleboards can be rented and launched from the parking area at the end of the Violetti Road entrance. Rentals are available daily from Memorial Day weekend through Labor Day.
Camping
Spring Lake has 31 campsites set amid an oak woodland above the lake. Tent, trailer, and RV campers are welcome. Three campsites feature sleeping cabins.
Reservations are required and can be made up to 12 months in advance online or by calling the reservations office at (707) 565-2267 from 10 a.m.-3 p.m. Monday-Friday.
Picnics
Spring Lake offers numerous picnic tables with barbecue grills throughout the park as well as five group picnic areas available for reservation.
More Things to Do
Environmental Discovery Center: The Environmental Discovery Center at Spring Lake is a natural history center featuring hands-on displays and exhibits for children and families.
Fishing: Large-mouth bass, sunfish, and catfish can be caught year-round at Spring Lake. A California fishing license is required for anglers 16 and older. Learn more about fishing in our parks.
Par Course: The park offers an 18-stop par course fitness circuit along the route of the Spring Lake Loop trail. Each station has an instructional sign that illustrates the specified exercise.
Accessibility
Spring Lake features wheelchair-accessible trails, picnic areas, campsites, and access to the Environmental Discovery Center. Approximately 1.2 miles of the paved Spring Lake Loop trail between the swimming lagoon parking area to the boat launch ramp area has moderate slopes and provides good accessibility. There are a few areas where cross slopes exceeds standards, but they are short stretches of the trail. In addition, large portions of the Fisherman's Trail & the Bay Area Ridge Trail are accessible.
All-terrain wheelchairs are available between Memorial Day weekend and Labor Day on a first-come, first-served basis. Wheelchairs can be checked out at the lifeguard station at the swimming lagoon. To ensure access, visitors can pre-arrange use by calling (707) 539-8092.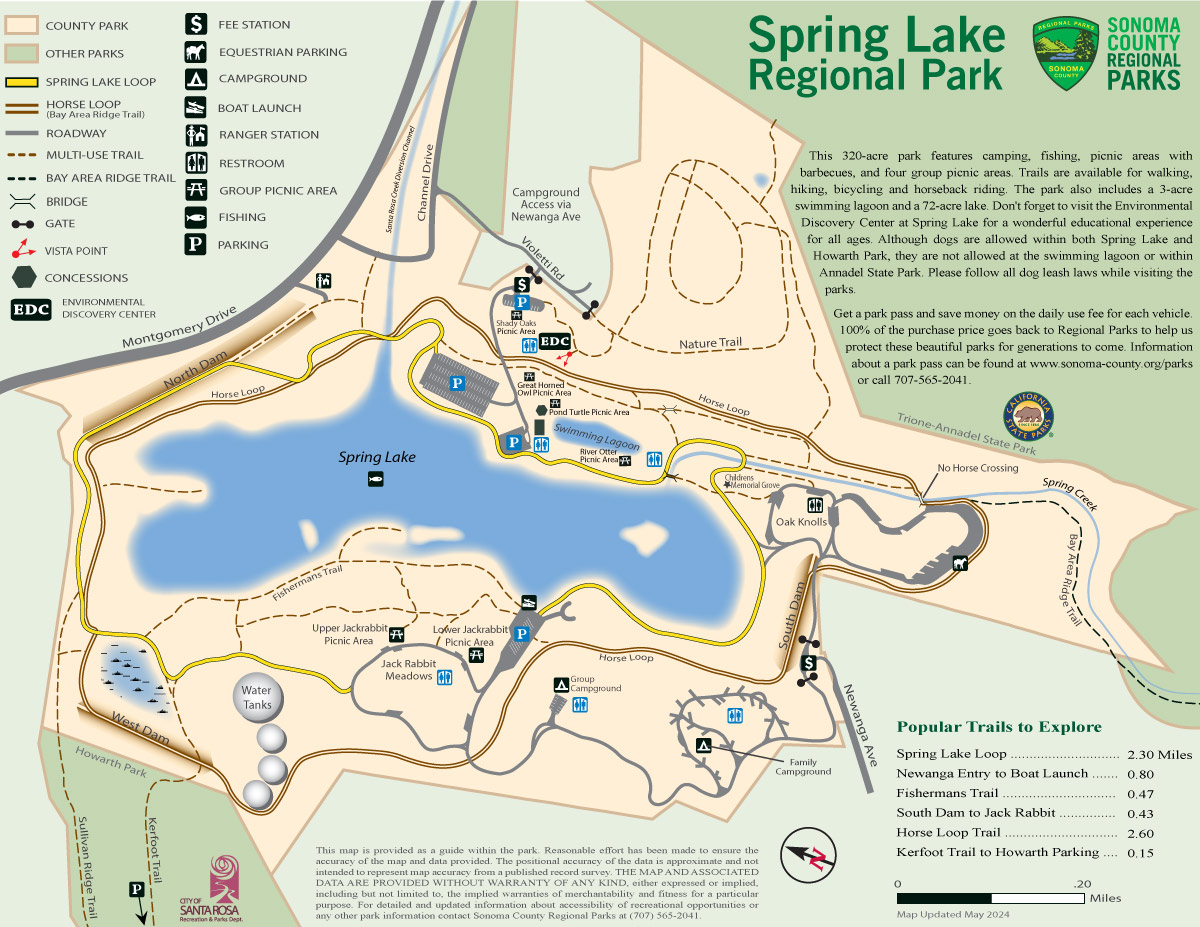 Popular Trails to Explore
Spring Lake Loop: 2.3 miles
Newanga Entry to Boat Launch: 0.8 miles
Fishermans Trail: .47 miles
South Dam to Jackrabbit Meadows:. 43 miles
Horse Loop Trail: 2.6 miles
Kerfoot Trail to Howarth Parking: .15 miles
Upcoming events at Spring Lake: