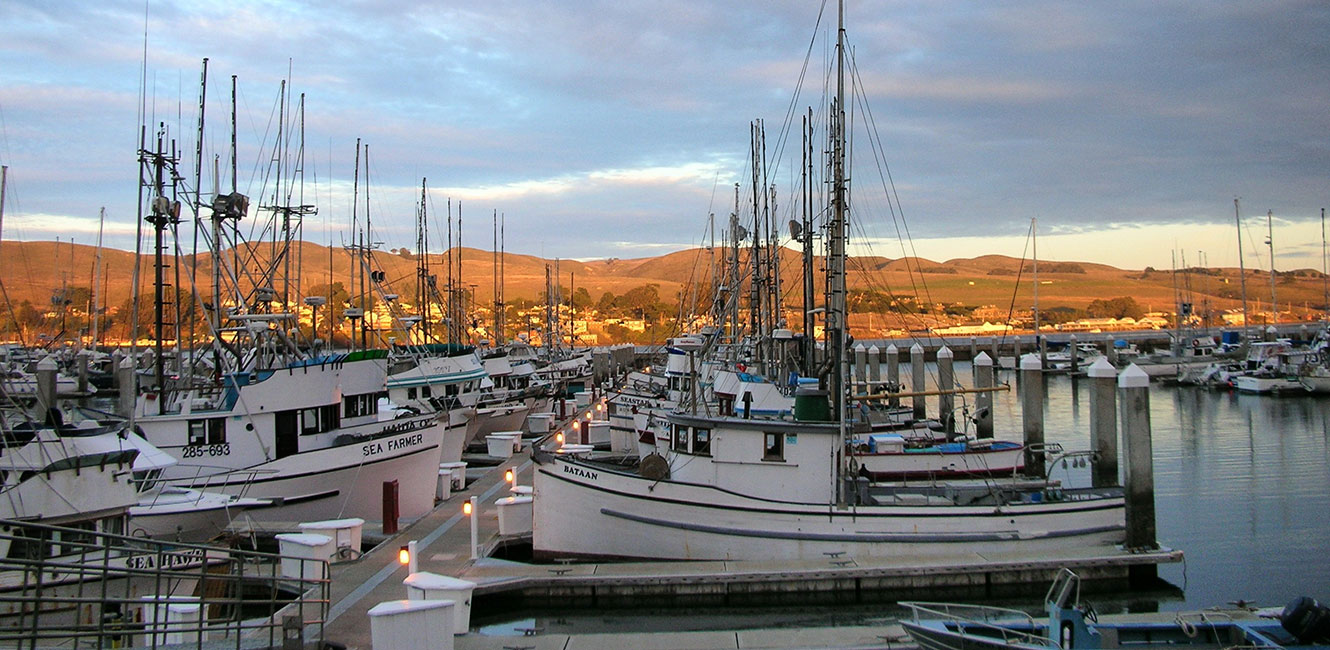 Spud Point Marina
1818 Westshore Rd, Bodega Bay, CA 94923
Google Maps™ Directions
Local Weather
Marina Office Hours:
8 a.m. to 4 p.m.
Monday - Friday, excluding holidays
Marina Hours:
8 a.m. to 6 p.m.
Dungeness crab season regulations: The recreational Dungeness crab season opens on Nov. 4, 2023, but a temporary restriction on the use of standard crab traps is in place on the Sonoma Coast, per state regulations. Hoop nets and crab snares are still allowed. The opening of the commercial Dungeness crab season has been delayed. Learn more.
Nearshore groundfish regulations: Effective Sept. 1, CA Fish and Wildlife has closed the nearshore groundfish (rockfish and lingcod) fishery on the Sonoma Coast. Learn more.
Spud Point Marina is on Bodega Harbor, approximately 60 miles northwest of San Francisco and 20 miles west of Santa Rosa. The harbor is the hub of commercial and sportfishing in Sonoma County.
Spud Point Marina welcomes monthly or overnight visitors and yacht club cruisers. The marina office and fuel dock are open daily.
Overnight guests: Please follow the self-registration process posted on the Spud Point Marina office door.
Marina attendants are on duty daily and can be contacted by hailing "Spud Point Marina" on VHF Ch. 16.
Amenities
Stable docks from 30 feet to 80 feet and end ties able to accommodate vessels up to 148 feet
Water depth of 12 feet at Mean, Low, Low, Tide (MLLT)
30 and 50 AMP electrical service
Free waste pump-out station
Fuel dock with gas, diesel, and ice
Guest dock and overnight berthing
Radio for overnight accommodations (VHF Channel #16)
Fishing pier and observation pier
Locked gates, restrooms, and showers for marina tenants
Ample parking close to berths
Coin-operated laundry
Wi-Fi at $5/day, $15/week or $29/month - Wi-Fi is a third party service, Regional Parks does not take payment or give technical advice.
Dry storage lot with 40-foot sites - Spaces are currently available.
Rates
Bodega Bay Marina Temporary Fee Waiver Program
The Sonoma County Board of Supervisors has authorized a temporary waiver of dock fees at Bodega Bay marinas for commercial fishing vessels experiencing financial hardship. The waiver is intended to help the commercial fishing fleet, which has been dealt a significant economic blow due to cancellation of the salmon season and shortened crab seasons this year. Dock fee waivers can be applied for monthly and will be prioritized to vessels that can demonstrate financial hardship, contribute to the local fishing economy, and are at risk of being abandoned. Download the application.
Slips for rent are currently available
Spud Point Marina and Mason's Marina are offering slips for rent on Bodega Harbor, with options available in sizes of 30-, 40-, 44-, 48-, and 60-feet. For inquiries, call the Spud Point Marina office at (707) 875-3535. Amenities include electrical service, a free waste pump-out station and a fuel dock offering gas, diesel and ice.
Berths
Monthly rate per foot with a 30-day minimum. Charges are for the length of the vessel, including overhangs, or the length of the berth, whichever is greater. A security deposit equal to one month's berth fee is required.
Commercial & Recreational: $7.50 per foot per month
Live-aboard (15): $200 per month in addition to berth fee. All Live-aboard slips are full.
Overnight stays
Charges are for the length of the boat - all extensions included. Rate includes use of electrical power
Commercial & Recreational Boats:
Boats 30' and under: $22.50
Boats 31' to 40': $33.74
Boats 41' to 50': $44.99
Boats 51' to 60': $51.42
Boats 61' to 90': $59.99
Boats 91' and up: $77.13
Dry storage
40-foot sites for boats on trailers: $95 per month
Spaces are currently available.
Wi-Fi
$5/day, $15/week or $29/month. Password is limited to one user and one registered device. Wi-Fi is a third party service, Regional Parks does not take payment or give technical advice.
Charter Boats - Sport Fishing Center
Sailing, whale watching, sportfishing and other charter trips are great ways to enjoy Bodega Bay and to get out on the ocean. Sonoma County Regional Parks operates the Sport Fishing Center located across the harbor from Spud Point Marina within the private Porto Bodega Marina. The Sport Fishing Center is the only place in Bodega Bay where privately chartered boats may dock for passenger loading and unloading.
About Bodega Bay
Bodega Bay is a village of approximately 1,000 people on the scenic Sonoma Coast, fewer than 50 nautical miles from the Golden Gate Bridge.
Bodega Bay features restaurants, galleries, and shops and is surrounded by parks offering camping, hiking, fishing and other outdoor recreation opportunities. Bodega Bay also makes a great base for touring the North Coast and Wine Country.
Used Oil Drop-Off
Our free oil recycling center is open to the public during regular marina hours, 7 days a week. We collect used oil, batteries and used paint. We don't accept household items or electrical/computer equipment.