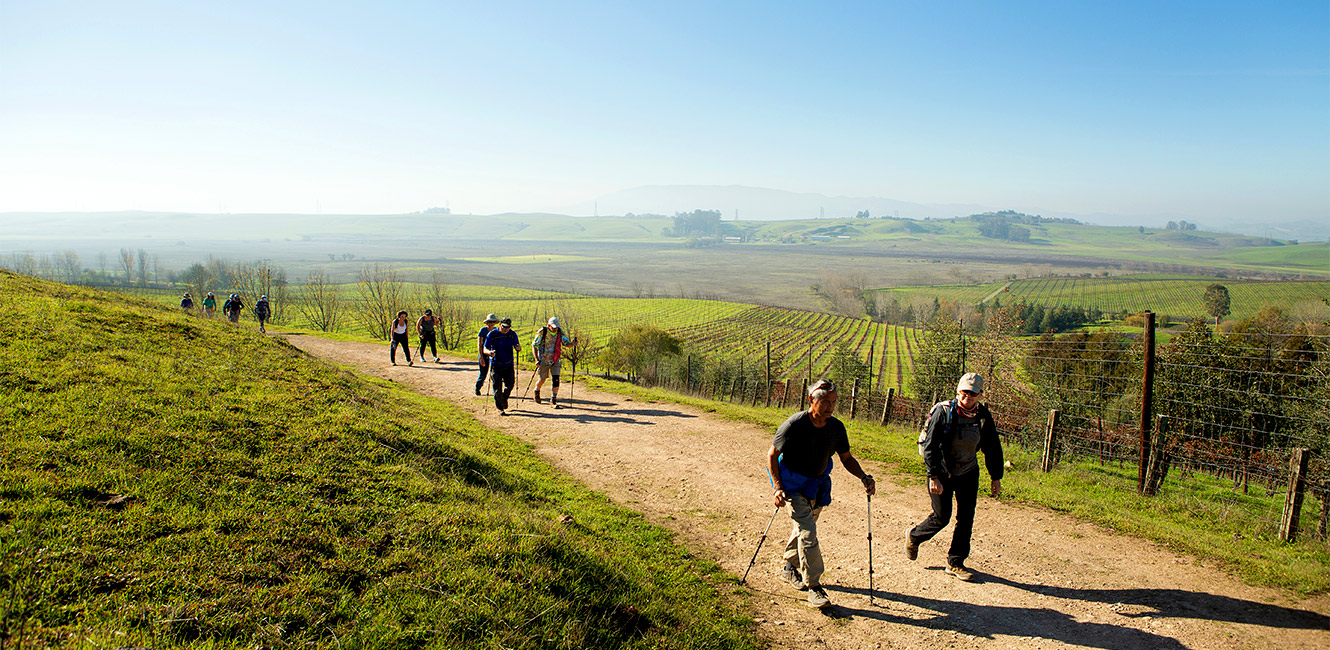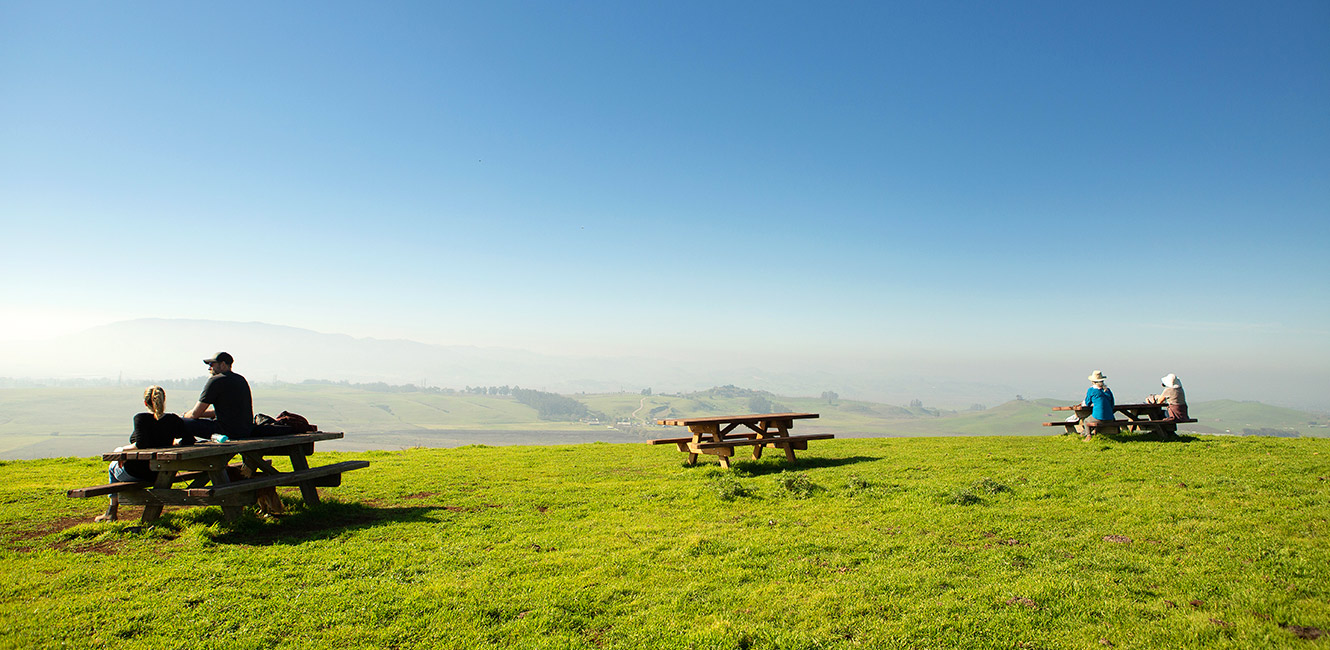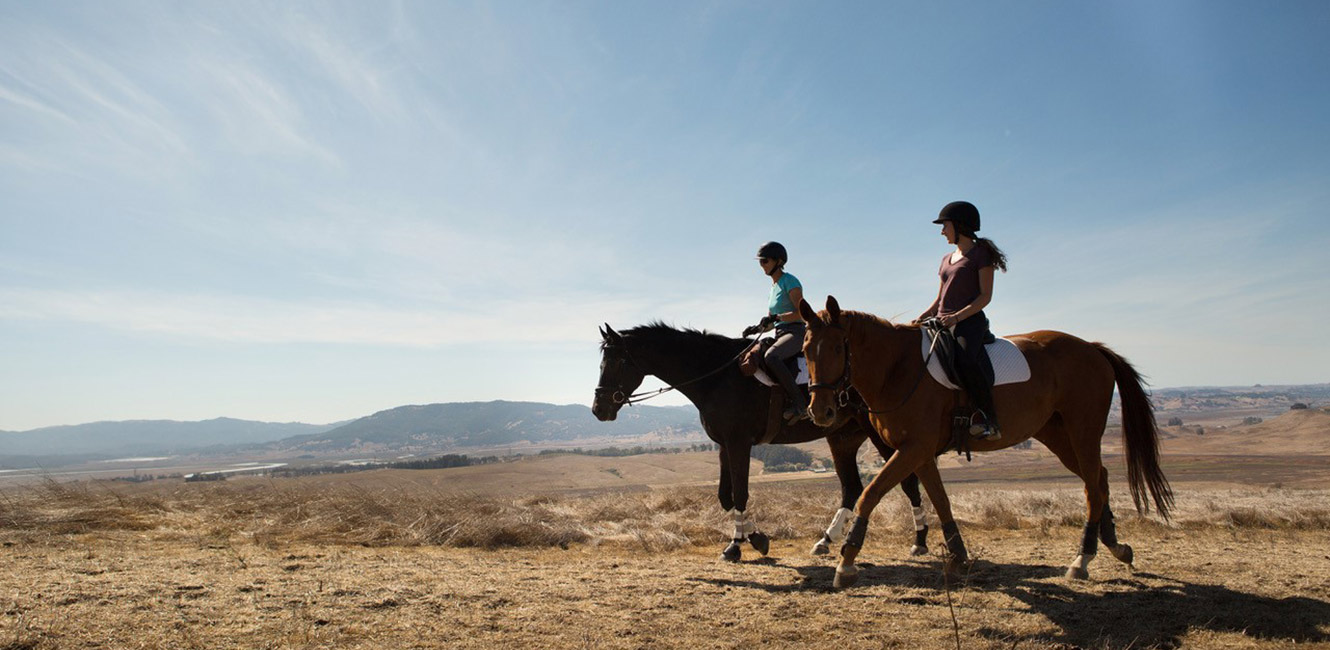 Tolay Lake Regional Park
5869 Cannon Lane, Petaluma, CA 94954
Google Maps™ Directions
Local Weather
Hours
7 a.m. to sunset
Parking
$7 or free for members
Tolay Lake Regional Park is approximately 8 miles southeast of downtown Petaluma. At 3,400 acres, Tolay Lake is the largest of Sonoma County's regional parks. It is named for the seasonal lake that forms in the valley between its hillsides.
The park includes Tolay Creek, extensive grasslands, and open ridges with views of San Pablo Bay, the San Francisco skyline, and Bay Area peaks.
The park offers trails for hiking, mountain biking, and horseback riding. It also provides habitat for a variety of wildlife, especially golden eagles, burrowing owls, and other birds of prey.
Trails
Tolay Lake Regional Park offers 11 miles of trails originating from the park center accessed from Cannon Lane. Hikers, mountain bikers, and equestrians may combine several trails to form looped routes or longer out-and-back excursions.
With the park's daily opening in 2018, visitors gained access to the southern 1,600-acre section of the park via an extension of the West Ridge Trail. The trail provides an 8-mile round-trip excursion to the far reaches of Tolay Creek with views of the Tolay Valley, Petaluma River Valley, and San Pablo Bay.
Another popular destination is the Three Bridges Vista Point. This 5-mile round-trip hike follows Causeway Trail across Tolay Lake and climbs through an oak woodland to join the East Ridge Trail. Views take in the Richmond-San Rafael Bridge, Bay Bridge, and Highway 37 overpass.
Other hiking options include shorter trips along Tolay Creek and several ponds. Most trails cross open grasslands and offer limited shade.
Visitors may encounter cattle grazing along trails. Cows are not aggressive by nature, but if aggravated or threatened, they will defend themselves. Tips for sharing trails with cattle:
Keep your dog on leash: Dogs are perceived as predators. Cows cannot distinguish the difference between a coyote and a dog and may become aggravated by an off-leash dog.
Do not attempt to pet or feed the cows: Do not get in between a calf and its mother and do not approach a stray calf as its mother is likely nearby.
If cattle are blocking the trail: Make yourself known well in advance by waving your arms and shouting. This will usually make cows scatter.
Give cattle plenty of space and an avenue of escape: If you encounter a cow that acts in a threatening manner or appears to be sick, injured or dead, please note the location and report it to parks staff.
Cultural and Natural History
The park is known for its Native American history. Tolay Lake is a spiritual center and a cultural landscape for the Federated Indians of Graton Rancheria, who are comprised of Coast Miwok and Southern Pomo tribal citizens. Coast Miwok people are the original descendants of the Tolay Valley. The Federated Indians of Graton Rancheria are the county's partners in stewarding the park's cultural and natural resources.
"The lake and surrounding area was highly sacred and was considered one of three areas in all of Northern California where Indian doctors from different tribes convened for sacred ceremonies and the exchange of ritual objects and songs for the purpose of healing," according to Greg Sarris, chairman of the Federated Indians of Graton Rancheria.
Tolay Lake was historically one of Sonoma County's largest freshwater lakes. It is a naturally occurring lake that forms in wet seasons and draws down in dry seasons. Earlier land owners altered the lake to accommodate ranching and farming. Restoration plans will return the lake to a natural system. Tolay Lake is not a recreational lake, and the lakebed is not accessible to the public.
The park is comprised of the 1,737-acre Tolay Lake Ranch property purchased by the Sonoma County Agricultural Preservation and Open Space District and transferred to Regional Parks and the 1,665-acre Tolay Creek Ranch property purchased and transferred by the Sonoma Land Trust. Acquisition of these lands has protected the bulk of the Tolay Creek watershed, which drains to San Pablo Bay. The park provides critical habitat linkages and wildlife corridors.
Group Picnic Area
The park offers one group picnic area available for reservation, that can accomodate up to 99 participants.
Accessibility
Several trails at the park meet slope and width requirements for accessibility. The 1.35 mile Historic Lakeville Road Trail, the .95 mile Farm Bridge Trail, the 1.1 mile Pond Trail, and the .9 mile causeway trail all provide good access in dry weather. The soils on the site are heavy clay, so during wet weather the tread does not provide all weather access.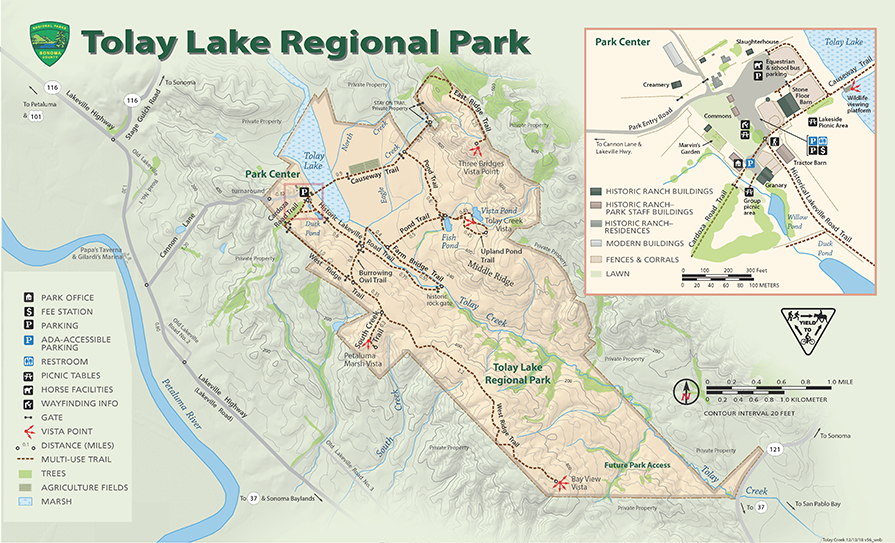 Popular Hikes
Park Center to Three Bridges Vista Point: 2.5 miles
Park Center to Vista Pond: 1.7 miles
Park Center to South Creek Trail Vista Point: 1.8 miles
Petaluma Marsh Vista Point to Bay View Vista: 2.25 miles
Upcoming events at Tolay Lake