Lower Russian River Trail (Proposed)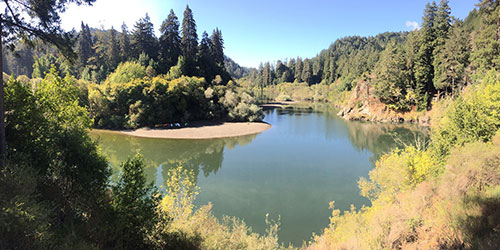 What & Why?
The lower Russian River's River Road / Highway 116 is a high-traffic, high-speed road with a history of multiple bicycle and pedestrian accidents.
Regional Parks is proposing to develop a 19.3 mile long multi-use trail along the Russian River corridor between Mirabel Park and Jenner. The trail would provide a safe walking and cycling alternative for commuters and visitors traveling this congested corridor. 
What's Next?
Regional Parks received funding from Caltrans' Sustainable Transportation Planning program and North Sonoma County Air Pollution Control District to complete a feasibility study for the Lower Russian River Trail.

The study gathered input from the community and stakeholders, evaluated existing site conditions and roads, identified opportunities and constraints, and recommended a preferred trail route. There have been three community workshops held, two in May and the third in October 2019. 

We would like to thank all of our participants for attending the community workshops, providing comments, and completing online survey. The Lower Russian River Trail Feasibility – Public Draft is now available. You can download the Public Draft by clicking on the web link on this page.

The Public Draft was presented and comments were received from the County Board of Supervisors at their meeting on January 14, 2020. Staff revised the Public Draft to address public comments and finalize the trail study. The Final Lower Russian River Trail Feasibility Study was approved at the February 11, 2020 Board meeting. The next steps include seeking funding and opportunities to implement the trail in phases.

;