Lower Russian River Trail - Background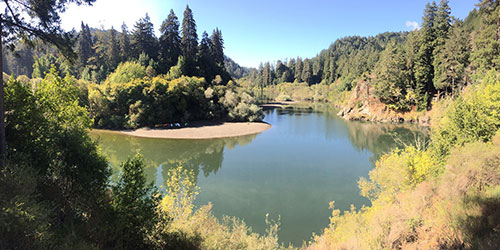 Project Background
The planned Lower Russian River Trail from Mirabel Road to Highway 1, is part of a larger regional trail project that extends north to the City of Healdsburg. The trail is identified as a project in the 2010 County Bicycle and Pedestrian Plan, 2009 Lower Russian River Community Based Transportation Plan, and Caltrans 2018 District 4 Bicycle Plan. The Lower Russian River Trail will provide visitors and residents with opportunities to experience scenic views of the Russian River corridor, access beaches for recreation, and minimize car trips.
In 2018, Regional Parks received funding from the following sources to prepare a feasibility study for the development of the Lower Russian River Trail: Caltrans Sustainable Transportation Planning Grant ($620,000), Northern Sonoma County Air Pollution Control District ($120,000), Park Mitigation Fees ($25,000), Transient Occupancy Tax ($10,000), Sonoma County Regional Parks Foundation ($5,000), Monte Rio Recreation and Parks District ($5,000), Korbel Winery ($5,000), Russian River Recreation and Parks District ($2,500), and The Wildlands Conservancy ($1,000). The purpose of the feasibility study is to solicit public input from the community and stakeholders, evaluate existing site conditions and roads, identify opportunities and constraints, and recommend a preferred trail route. The feasibility study area included the following communities: Forestville, Mirabel, Hacienda, Odd Fellows Park, Summer Home Park, Rio Nido, Guerneville, Guernewood Park, Vacation Beach, Northwood, Monte Rio, Villa Grande, Sheridan, Duncans Mills and Jenner.
In Spring 2019, a series of community and stakeholder meetings were conducted in Guerneville to solicit input. Participants unable to attend in person were able to provide comments online. The online surveys were available in Spanish and English. The draft feasibility study was completed and released for public review in Fall 2019 before it was submitted to the County Board of Supervisors for review at their meeting on January 14, 2020. After addressing comments from the public and the County Board of Supervisors, the Final Lower Russian River Trail Feasibility Study was approved by the Board on February 11, 2020.