Calabazas Creek Regional Park and Open Space Preserve - Background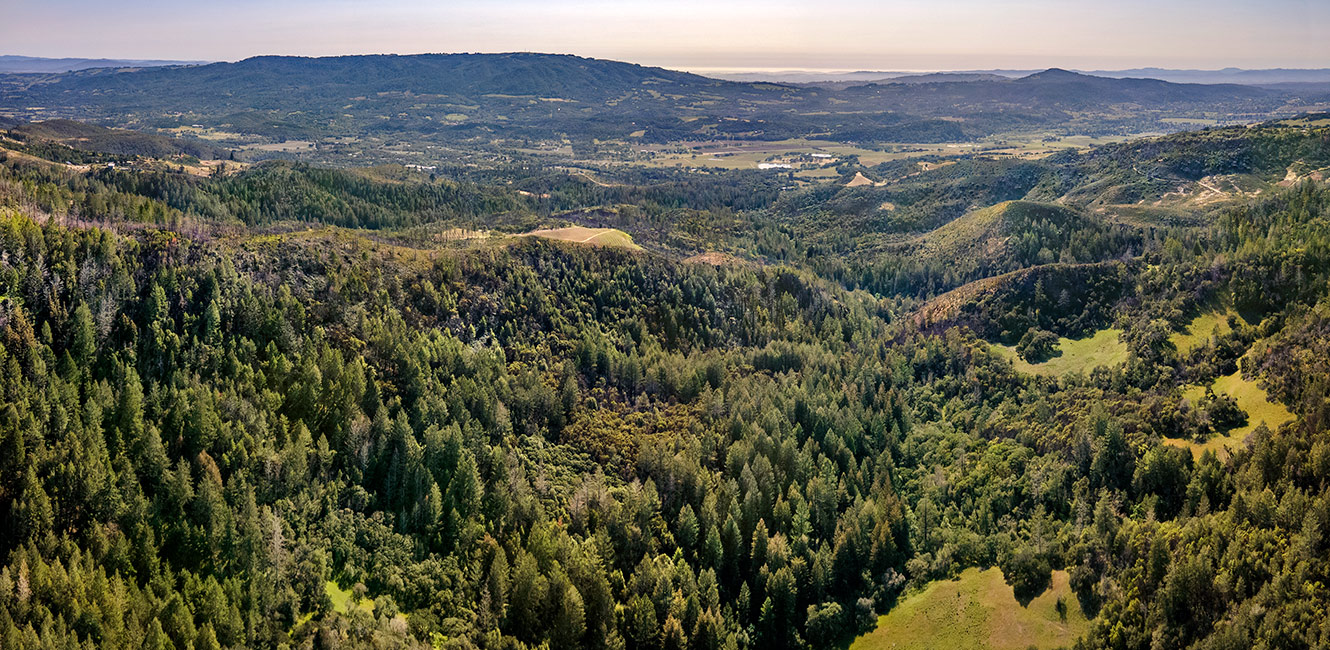 Project Background
Rich in cultural history, Calabazas Creek Open Space Preserve is located near the eastern border of the traditional territory of the Coast Miwok, with the Wappo to the east and Southern Pomo tribal territories to the north. In the late 1800s, Anglo-Americans and European settlers introduced ranching, dairy operations, dry farming, and mining to the region. One of the most famous former landowners was Mary Ellen Pleasant, a former slave turned civil rights leader and San Francisco entrepreneur in the late 1800s, who named the property Beltane Ranch. It remained Beltane Ranch until 2004 when the Agricultural Preservation and Open Space District (Ag + Open Space) acquired this section of the larger 1,600-acre Ranch and renamed it Calabazas Creek Open Space Preserve.
Protection of the property is critically important to the continued presence of wildlife in the region and will add to the preservation of a regionally significant wildlife corridor in the Mayacamas Mountains. Recreationally, it is in a significant location to provide trail linkages to existing regional trails including the Bay Area Ridge Trail, a proposed 550-mile regional trail system that travels through seven counties and encircles the entire San Francisco Bay Area.
In 2021, Ag + Open Space transferred the land to Sonoma County Regional Parks, to one day become a public regional park and open space preserve. Ag + Open Space developed a Resource Management Plan (2016) and retained a Conservation Easement and Recreation Covenant, which guide current land management activities in the park.
Resources Management Plan
In 2016, Ag + Open Space adopted the Calabazas Creek Open Space Preserve Resource Management Plan (RMP), which offers a comprehensive assessment of existing natural and cultural resources, identifies special-status species in need of protection, presents management strategies for protecting and enhancing resources, and provides preliminary planning for future development of public access infrastructure while minimizing impacts to resources. The RMP is the guiding document for land and resource management activities and will be used to inform and guide recreation during the master plan process.
Conservation Easement
A conservation easement is retained by Ag + Open Space, guiding potential property use and activities. The conservation easement specifies that the property will be used for:
natural resource preservation and restoration
recreation and education
limited agricultural use – primarily livestock grazing
The conservation easement limits and defines possible development for recreation, including the necessary approvals for creating a master plan.
Recreation Covenant
Additionally, Ag + Open Space retains a recreation covenant that assures the property will be used, maintained and operated as a public park and open space preserve in perpetuity.
Supporting Documents
Project Funding
In 2004 Ag + Open Space acquired the land.
Ag + Open Space provides funding for existing road improvements for sediment source reduction work and for initial public access "Park Preview" days, beginning management of natural resources and existing facilities, and development of the Park Master Plan and CEQA studies.
Regional Parks Measure M funds and Park Mitigation Fees will also be used to augment funding for master plan development, land management activities, and natural and cultural resource protection.