Healdsburg Beach Visioning - Project Detail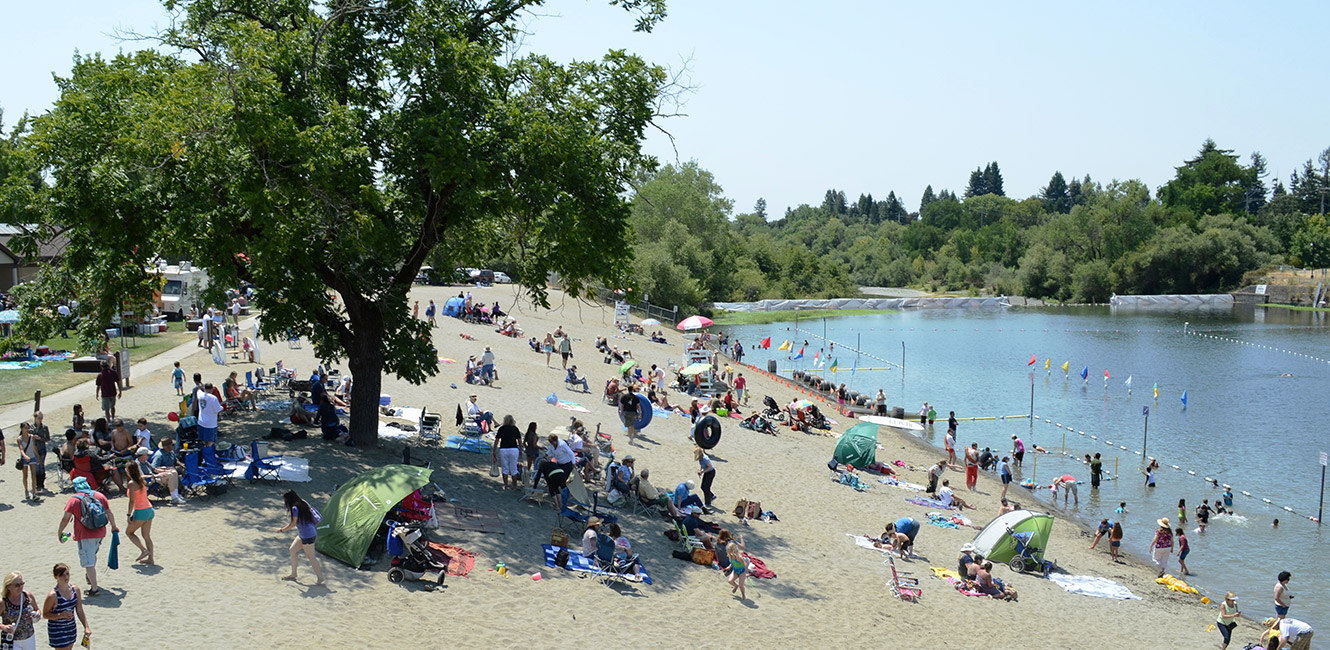 Sonoma County Regional Parks has contracted with Design Workshop, Inc. to perform several tasks associated with preparing a Master Plan and the related documents for Healdsburg Veterans Memorial Beach. The scope of the work includes:
site analysis, user surveys, and stakeholder interviews
community engagement and participation
development of opportunities and constraints
development of site alternatives and project descriptions
development of a park Master Plan, and
preparation of an environmental document.
The initial site analysis and user survey have been completed. An additional user survey is in progress, and stakeholder interviews continue to be conducted.
The first community meeting was held Thursday, June 7, 2018 at the park. This meeting was focused on developing a consensus vision for the park, and establishing goals and objectives to achieve that vision. The process included a tour of the existing facilities in small groups to provide opportunities to discuss possible improvements, including new or enhanced facilities, educational programs, recreational opportunities, and related ideas. The collected input and comments were summarized and evaluated for feasibility, and were used to prepare three alternative graphics for presentation and discussion the second community meeting.
The second community meeting was held on Saturday, September 15, 2018 at the Healdsburg City Council Chambers. At this forum the comments and results from the first community meeting and user surveys were presented, along with the three preliminary design alternatives for public comment. Spontaneous electronic polling was conducted by the attendees as the three preliminary alternatives were presented. A variety of survey questions related to the location and types of facilities included in alternatives, and the appropriateness and other possible facilities that might be added or removed, were collected. The same questions with some minor edits, along with the three alternative graphics, are included in the current user survey
Regional Parks has been awaiting the City of Healdsburg's hiring of a consultant for the Badger and Montage Park projects so that planning efforts between the two agencies can be coordinated. This will allow us to look at regional connections and complementary facilities to improve recreational opportunities to the public. We are anticipating another public meeting before the end of the year to review the alternative plans for the park and select a preferred alternative for evaluating environmental impacts and processing the document.
A schedule of activities, meetings, and milestone events is included below as a general reference.
| Date | Event |
| --- | --- |
| May - August 2018 | User Surveys, Stakeholder Interviews, site analysis, meeting notifications, press releases, etc. |
| June 7, 2018, 6:00 to 8:00 PM | Community Meeting #1 – Visioning & Information Gathering |
| September 15, 2018, 10:00 AM to 12:00 PM | Community Meeting #2 – Evaluation & Discussion of Alternatives |
| November - December 2019 (Date TBD) | Community Meeting #3 – Evaluation & Discussion of the Refined Alternatives |
| March 2020 (Date TBD) | Community Meeting #4 – CEQA Scoping Meeting |
| April - May 2020 (Date TBD) | Healdsburg City Council Meeting – Presentation of Project |
| May - June 2020 (Date TBD) | Board of Supervisors – Approval of Project & CEQA Document |
To be notified of upcoming meetings and updates for this project, please