For Immediate Release
Master Plan for Hood Mountain Expansion Approved
Supervisors OK plan to build trails and primitive campsites on 247-acre addition
Santa Rosa,CA | June 22, 2018

An approved plan calling for over 4 miles of trails with stunning Sonoma Valley views, several hike-in campsites, and the county's first backpacking hut will give visitors a chance to explore a new, wild portion of
Hood Mountain Regional Park
. The Sonoma County Board of Supervisors earlier this month
approved a master plan
for future public use and management of a 247-acre addition to the northwest edge of Hood Mountain (
see map PDF: 1.4 MB
). The Sonoma County Agricultural Preservation and Open Space District purchased the rugged land from the Lawson family in 2005 and transferred it to Regional Parks in 2014. Park planners then spent several years studying the property and gathering public input to create a plan that guides both recreation and preservation.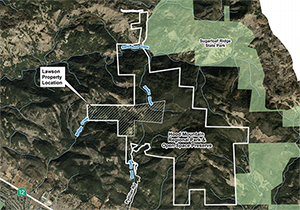 "The Lawson expansion has been in the works for years, and it's exciting to have a vision for how we can explore and protect this beautiful property," said Supervisor Susan Gorin, whose 1st District includes Hood Mountain. "The features in the master plan will give visitors a chance to unplug from their busy lives and also will leave much of the site untouched for wildlife habitat."

The first project called for in the master plan is an approximately 2-mile trail to be built off of the park's existing Lower Johnson Ridge Trail, about 1 mile above the Pythian Road trailhead. This new trek will provide access to a 1,935-foot peak known as Lawson's Peak. The trail will boast views of the Sonoma Valley and Napa Hills, and, on clear days, the Pacific Ocean and San Francisco Bay.

Regional Parks Planner Karen Davis-Brown said the goal of the expansion is to preserve the open space and provide the public with an opportunity to explore this wilderness area just 13 miles from central Santa Rosa.

"The trails we're planning are user-friendly and designed for people with varying abilities," she said. "While much of Hood is especially steep, the first new trail will resemble the current Lower Johnson Ridge Trail, which is more manageable for a wider group of hikers."

Davis-Brown added that trail plans will provide access to a variety of locations on the property. "The trails are intended for many interests, from peak views to meadows to tucked-away picnic corners," she said.

The master plan also identifies several hike-in campsites and an informal picnic area. The primitive campsites at Lawson's Peak will be for hikers, bicyclists and equestrians and will prohibit campfires. The area also includes plans for a bare-bones cabin consisting of bunk-style sleeping areas and a shared room for preparing food - much like one might find at national parks like Yellowstone and Lassen. A first of its kind for Regional Parks, the hike-in bunkhouse will have no electricity or running water, but will provide a way for people to camp without having to carry as much gear.

The cost of developing the master plan was funded by the Ag & Open Space District's voter-approved sales tax. The District's tax revenue also will pay for the first phase of trail construction, slated for spring 2019. The additional trails, campsites and bunkhouse would be developed in future phases when Regional Parks obtains grants or other sources of funding.

Like other areas of Hood Mountain, part of the Lawson addition burned in the 2017 Nuns fire. The property was instrumental in halting the wildfire's spread into Rincon Valley as it provided a buffer for bulldozer breaks and back fires. Fire recovery efforts are underway on the property and other locations in the park.
The Regional Parks system includes 56 parks, beaches, and trails throughout Sonoma County. Regional Parks' mission is to create healthy communities and contribute to the county's economic vitality by acquiring, developing, managing, maintaining parks. Regional Parks preserves natural and cultural resources and offers opportunities for recreation and education that enhance the quality of life and well-being of residents and visitors.

###
Contact Information
Meda Freeman
Communications Manager Regional Parks
(707) 565-2275
Meda.Freeman@sonoma-county.org