Spring Lake Water Park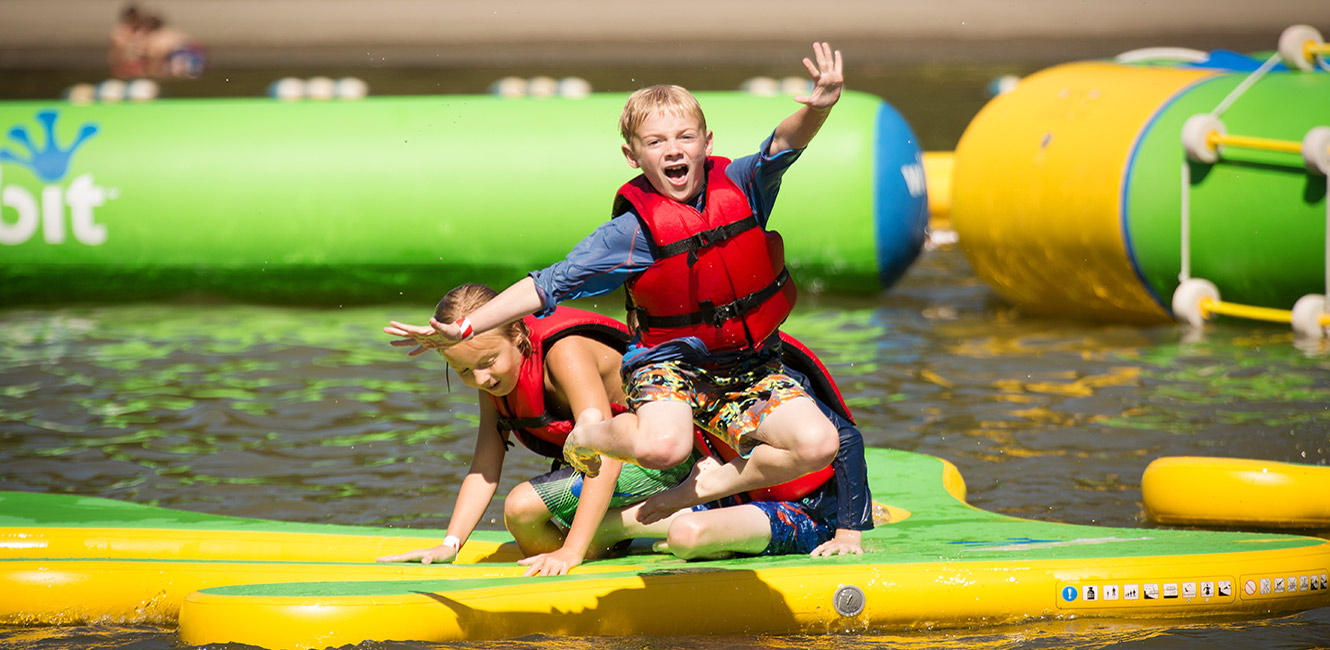 The Spring Lake Water Park at the Spring Lake Regional Park swimming lagoon is an inflatable playground featuring floating slides, climbing walls, bridges, balance beams, jumps and trampolines.
Hours and ticket information
Morning session: 10:30 a.m.-1:30 p.m.
Afternoon session: 2-5 p.m.
Ticket prices: $10 per session.
Age and height requirements: Must be 6 years or older and at least 42 inches tall
Frequently asked questions about the Water Park
Are online reservations required?

Online reservations are highly encouraged and allow you to reserve and pay for water park sessions in advance. Walk-up admission is allowed when space is available. Walk-up registration and payment can be made at the rental office next to the Otter Cafe.

Do I need to know how to swim to use the inflatable playground?

Yes, you should have basic swimming skills. Most of the play equipment is in water more than 4 feet deep. All users are required to wear a life vest, included with admission.

Are lifeguards on duty?

Yes, multiple lifeguards watch visitors from shore, and lifeguards on paddle boards are stationed inside the play area.

Can older children visit the playground unsupervised?

Children 14 and younger require at least one parent or chaperone to be present at the swimming lagoon, and parents need to sign a waiver for all children 14 and under in their care. Teens 15 and older can sign their own waivers.

If a parent does not want to play on the inflatables, does the parent need to pay admission?

The adult will not need to pay but will need to stay outside of the play area.

How many people can be on the inflatable playground?

We can accommodate up to 100 visitors at a time.

Why is a wristband required?

Color-coded, disposable wristbands help us quickly see who has paid admission. You will get your wristband at the Water Park/boat rental rental office next to the lagoon.

How clean is the water?

Water in the spring-fed swimming lagoon is chlorinated and circulated throughout the swim season. The Sonoma County Department of Health Services regularly monitors water quality, and samples consistently exceed health and safety standards.

Can people with physical limitations access the inflatable playground?

We make every effort to assist visitors with physical limitations. Accommodations can be made on a case-by-case basis and may include the use of a beach wheelchair to reach the water. For more information, please speak with parks staff or call Regional Parks' aquatics specialist at (707) 565-3080 Monday through Friday.

Are floats permitted?

For safety reasons, personal swim gear is not allowed in the inflatable playground.

Can I bring my dog?

Leashed dogs are welcome in the park but are not allowed on the beach or in the water. If you bring your dog to the lagoon, it will need to stay on the grassy areas.

;