Cabins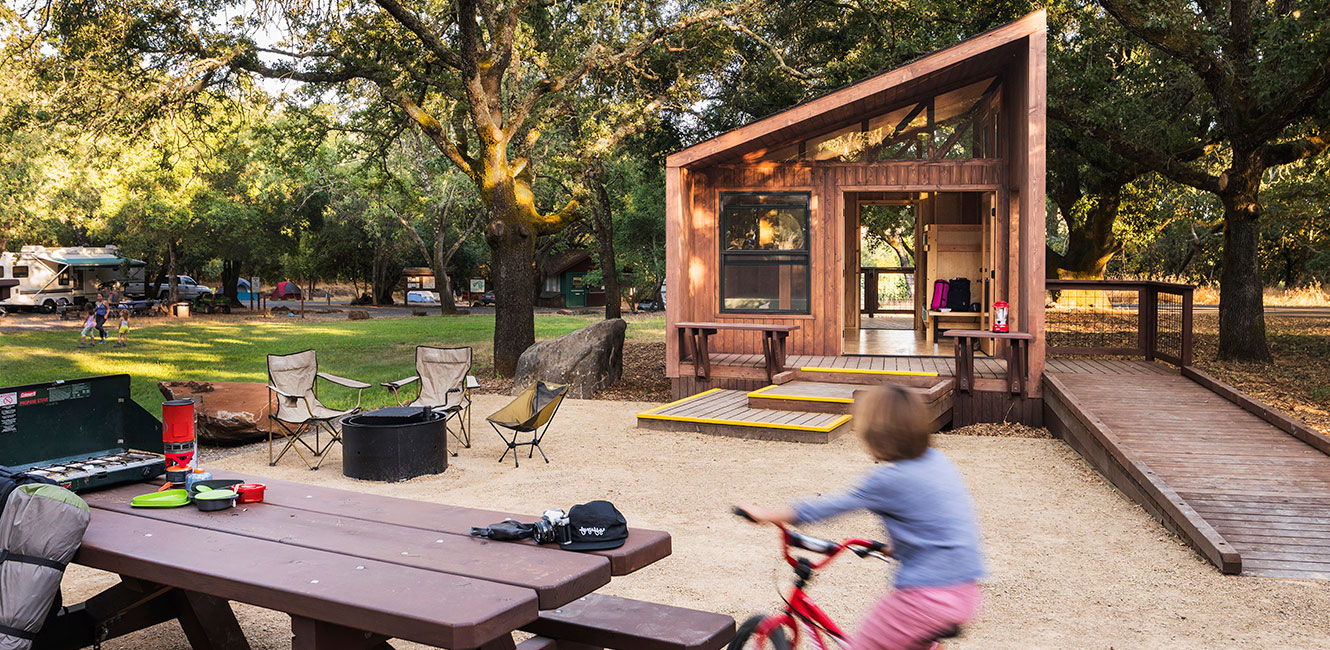 The campground at Spring Lake Regional Park features three sleeping cabins. Each cabin has sleeping platforms with mattresses, decks with seating, porches, a picnic table, a prep table, fire ring, charcoal grill, and food locker. Bring your own bedding and lighting.
Cabins #25 and #30 sleep four (4) people each, with a double mattress and a twin bunk bed. Cabin #25 is also ADA accessible.
Cabin #28 sleeps six (6) people with three twin bunks.
Each cabin has room for one tent outside, and up to eight (8) people are allowed per cabin site. Pets (with the exception of service animals) are not allowed inside the cabin or on the porch.
Rates
Rates range from $79 per night, with the exception of peak season and holidays.
Peak season is the Friday of Memorial Day Weekend through Saturday after Thanksgiving. Rates during this time are:

Sunday-Thursday: $79 per night
Friday-Saturday: $89 per night
Holidays (Memorial Day, July 4th, Labor Day and Thanksgiving Day): $99 per night

Non-refundable reservation fee of $9.50 per site applies to all reservations.
Rates include one vehicle. Each additional vehicle is $7 per night. Two (2) vehicles max. No RVs or trailers allowed.
Cabin Policies
Check-in is at 2 p.m. (PDT) Check-out is at 12 p.m. (PDT). Sites will be held until 12 p.m. the day after the reservation arrival date. If the park staff or reservation agents are not notified before then, the reservation will be cancelled and all paid fees will be forfeited.
Cancellations
Cancellations made within 10 days of the scheduled arrival date result in the forfeiture of first night's camping fee. All other camping reservation and cancellation policies apply.
Vehicles and parking
No RVs or trailers allowed. Camping fees include one vehicle per site. A second non-towed vehicle is allowed for a fee of $7 per night (no more than two (2) vehicles allowed).
All vehicles must remain on the pavement and park in the designated parking spaces at all times. All California Vehicle Codes apply.
Cooking and fires
Check Red Flag Warnings and fire restriction advisories. Fire, campfire and BBQ restrictions may be in place depending on drought or weather conditions.
If conditions permit, fires are allowed in fire rings and BBQ's only.
Cooking is allowed outside of the cabin and away from the porch with provided BBQ grill, fire ring or with the use of your own camp stove. Use only charcoal briquettes in the BBQ grill.
Gathering or cutting wood is illegal. Firewood is available for purchase from the camp host or park staff.
Have enough water on hand at all times to completely extinguish your campfire. Burn all wood to ash and be sure the fire is completely out and cold before you leave it.
A campfire isn't a trash can. Burned trash releases harmful toxins that you and others will breathe in. Pack out all trash, litter and food scraps.
Quiet Hours
Quiet hours are 10 p.m.-7 a..m. Amplified music is not allowed at any time.
Pets
Dogs are allowed if they are physically controlled on a leash no longer than 6 feet. Proof of rabies vaccination is required.
Dogs and other animals (with the exception of service animals with proper identification) are not allowed inside the cabin or on the porch. They may not be left unattended outside the cabin or in a vehicle overnight.
A fee of $2 per dog, per night will be charged.
No Smoking
Smoking, including e-cigarettes and vaping, is prohibited in all regional parks and campgrounds, including in cabins or on porch.
We reserve the right to charge a fee for property damage, missing amenities and/or clean up efforts.
Failure to comply with policies, rules and regulations may result in eviction from the campground and/or a loss of paid fees. It is the reservation holder's responsibility to ensure all members of their camping party are informed and comply with all rules and policies.