Climate Change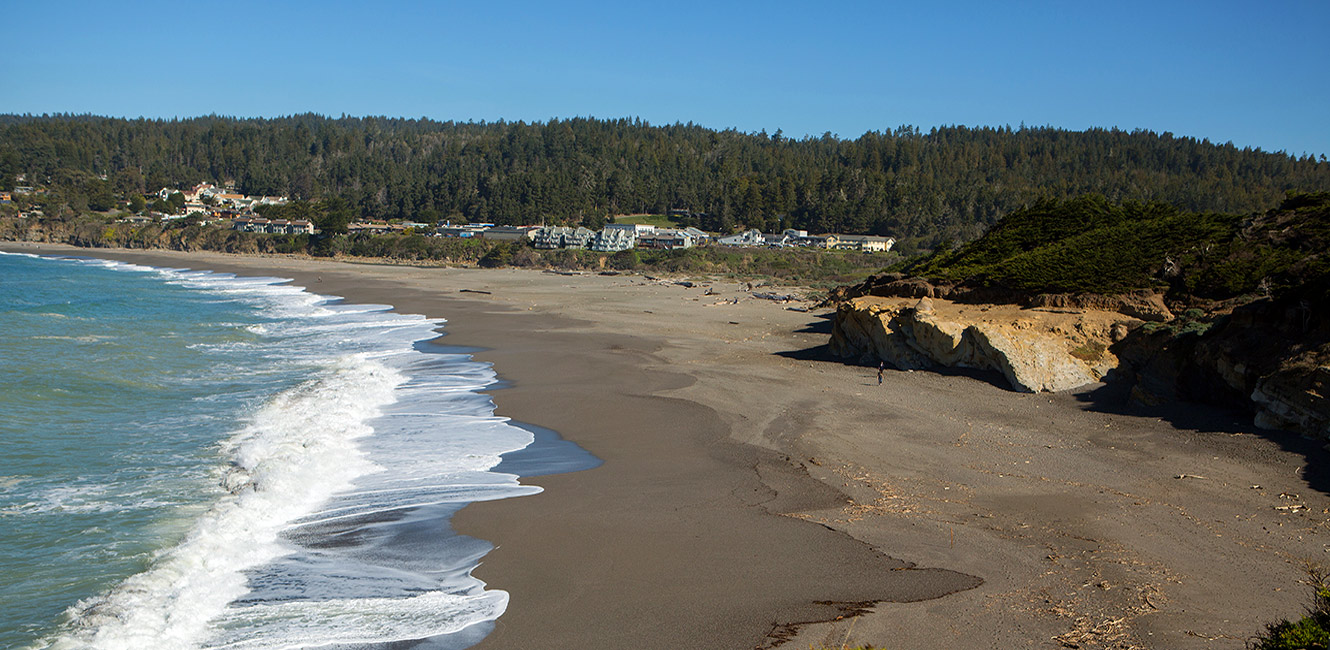 Sonoma County Regional Parks' many acres of parkland are an integral part of regional and global efforts to address the threat of climate change. Here are three reasons why:
Curbing the effects: Parks are our first and best line of defense against the destructive effects of climate change. They cool and clean the air, regulate precipitation, absorb floodwaters, serve as firebreaks, provide shade, and lessen the impact of urban heat islands. In these and more ways, parks improve public health just by being there.
Tackling the cause: Parks sequester enormous amounts of carbon, locking it in soil and vegetation and keeping it out of the atmosphere.
Helping the environment: Parks act as refuges for biodiversity, supporting birds, insects, fish, amphibians, mammals, plants and fungus that are the foundation of our biotic system. Parks also provide connectivity for these species to migrate and adapt to variable conditions.
For these reasons, growing, preserving and optimizing parkland here and everywhere is essential for our collective health and safety. For agencies like Sonoma County Regional Parks, our mission intersects with an imperative shared by everyone: to fight climate change and minimize its effects.
Wildfire, drought, and other dangers
California and the West have experienced a noticeable increase, both in frequency and severity, of storm surges, floods, droughts, heat waves, high-wind events and wildfires. Many of these weather patterns amplify each other — for example, the combination of extreme drought, heat and wind has resulted in unprecedented wildfires throughout the Western United States.
Over the past few years, record-breaking wildfires in Sonoma County have turned local parks into battlegrounds. Hood Mountain Regional Park & Preserve was severely burned during the Nuns fire in 2017 and again during the Glass fire in 2020 — but in both cases firefighters held the fires at the park, saving neighborhoods in Santa Rosa. Similarly, Foothill Regional Park became a frontline during the Kincade fire in 2019, and although nearly all of the park burned, firefighters held the fire there and saved the neighboring town of Windsor.
These dramatic examples show how important parks are in keeping Sonoma County communities safer from the effects of climate change. And extreme wildfire isn't the only threat we're now facing. Increased flooding, rising sea waters, historic drought and species loss are all growing dangers in Sonoma County and beyond — dangers which parks are well-suited to deal with.
Tackling greenhouse gasses
Climate change is caused by higher levels of carbon dioxide and similar gasses entering the atmosphere. Any solution to climate change must reduce greenhouse gasses in two ways: by stopping further emissions, and by drawing carbon dioxide out of the atmosphere through "sequestration," which traps it in the ground and in vegetation.
Sequestration is greatly aided by the presence of parks because healthy open space acts as a natural carbon sink. As trees and other plants grow, they convert carbon dioxide to oxygen; when they decompose, some of that carbon becomes sequestered in the soil. The more parks and open space we have, and the healthier and greener those places are, the more sequestration will occur.
Preparing for the future
Adaptation means acknowledging that climate change is happening and preparing accordingly. For Sonoma County Regional Parks, wildfire, flooding, sea level rise and habitat and species loss are among the challenges we must prepare for in the years ahead.
In some cases, that's best accomplished by continuing to use smart land management practices. Grazing, prescribed burns and invasive species removal can help us manage wildfires. Stream restoration can reduce erosion and alleviate flooding. These and other practices improve native habitat, resulting in more robust and resilient ecosystems. Sustainable water management and drought preparedness are critical components to resilient park management.
Sonoma County coordinates its larger adaptation and mitigation efforts through the Sonoma County Regional Climate Protection Authority. This agency, which brings county and city leaders together on a variety of climate-related issues, commissioned experts from the North Bay Climate Adaptation Initiative to develop a local assessment of climate risks. The resulting report, "Climate Ready Sonoma County," provides an important blueprint for adapting to climate change locally at both the individual and societal level.
A local and global mandate
The Sonoma County Board of Supervisors has joined governments around the world in designating climate change as a global emergency requiring immediate and urgent action. As a result, climate action and resiliency is now a strategic plan pillar for Sonoma County, and all county agencies, including Regional Parks, are committed to becoming "carbon neutral" — meaning they are not adding more greenhouse gasses to the atmosphere — by 2030. To help us meet that goal, Regional Parks is assessing its carbon output and devising ways to reduce emissions agency-wide.
Meanwhile, Regional Parks continues to use stewardship practices — such as removing fuels and restoring habitat — that over time increase and maximize carbon sequestration in Sonoma County's parks and preserves. We also work with local agencies like Sonoma County Ag + Open Space and Sonoma Land Trust to permanently preserve more open space, where we can further those good stewardship practices into the future.
What can I do?
It's important that we all act responsibly on an individual level by wasting less, recycling and conserving more, switching to renewable energy sources, walking, biking and taking public transit, and of course by supporting the growth and preservation of local parkland.
However, long-term solutions to climate change will also require stronger action by larger entities, such as governments and corporations, around the country and the world. Scientists say there is still time to fix our climate change emergency, but only if we act immediately, decisively and comprehensively.
That means using every means at our disposal — including expanding, improving and preserving our precious open space.