Outreach Programs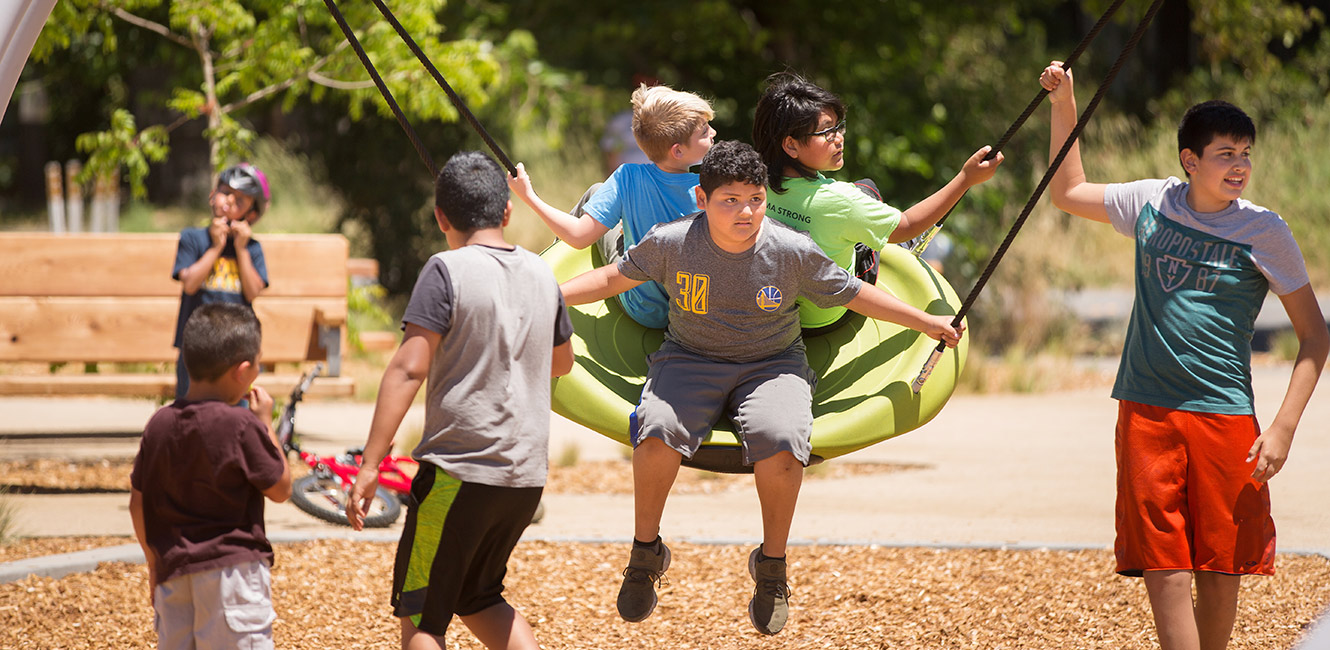 Being outdoors provides natural building blocks to healthy bodies, minds and communities. At Sonoma County Regional Parks, we deliver these essential benefits, via community engagement programs and outreach, within a framework of equity, diversity, inclusion and cultural sensitivity.
With the support of the Sonoma County Parks Foundation, we're able to reduce financial barriers in order to reach underrepresented community members. Outreach programs offer park access and programming for low-income families, people of color, underserved youth, senior citizens and people with disabilities.
Families
Caminitos Al Parque introduces low-income, Spanish-speaking families to the wonders of nature through an innovative, hands-on educational park experience that promotes literacy and nutrition. The program is in collaboration with Community Action Partnership's Pasitos playgroups.
Vamos a Nadar, established to promote water safety and prevent drownings, provides free swim lessons for low-income children and bilingual water safety instruction for parents.
At Sonoma County Regional Library branches, families can check out Regional Parks Discovery Packs. These backpacks include a parks map, trail itineraries, hiking tips and a pass to park at all 55-plus regional parks.
Thanks to the generous support of the Sonoma County Parks Foundation, we offer "camperships" for our camps and after-school enrichment programs.
Annual low-cost vehicle entry passes are available for Sonoma County residents with very limited incomes.
Youth
YES Coast (Youth Exploring Sonoma Coast) connects underserved young people (13-18) to our coastline. The year of outings intertwine the themes of coastal and marine ecology, local history and the rich coastal cultural through recreation, education, art, career exploration and stewardship activities.
Regional Parks' Career Pathways Youth Crew is a program that helps 18- to 24-year-olds develop job skills under the stewardship of Regional Parks field staff. The program, with the support of community-based youth organizations, provides paid opportunities for youth who have experienced adversities that make career development more challenging.
Seniors
Senior Saunters are low-impact hikes designed to connect older adults with beautiful parks and each other.
The Wild Wonders Book Club brings folks safely together to experience the magic of nature through literature.
Adapted programs, such as Senior Kayaking, allow older adults to participate in low-impact, well-paced recreation. Staff also works with community partners serving older adults to develop custom offerings to meet the needs of their members.
Communities of Color
We openly welcome organizations working with communities of color to partner with us to connect folks with the parks. We offer monthly programs in Spanish to ensure that our Latinx, Spanish-speaking community have opportunities to enjoy our parks.
The Latinx Family Campout introduces families to the wonders of camping through a low-stress weekend of fun and building new outdoor skills.
With the Nuestros Parques program, we work with partners to develop customized, health-focused outings, from hikes to kayaking to crabbing, all with the Spanish-speaking community.
People with Disabilities
Regional Parks offers adaptive recreation programs, Eco-Access, on a quarterly basis. We also have ADA-compliant trails, including the popular Spring Lake, a new ADA kayak launch at Doran Beach and accessible campsites at Doran Beach, Stillwater Cove, Westside and Spring Lake, which also has accessible cabins and group sites.
Annual access memberships are available for persons with permanent disabilities.
We are happy to partner with groups serving folks who are differently abled.
Getting in Touch
If you'd like more information about outreach efforts, would like to collaborate, or want to request a program for your agency or organization, please contact us.