Group Campsites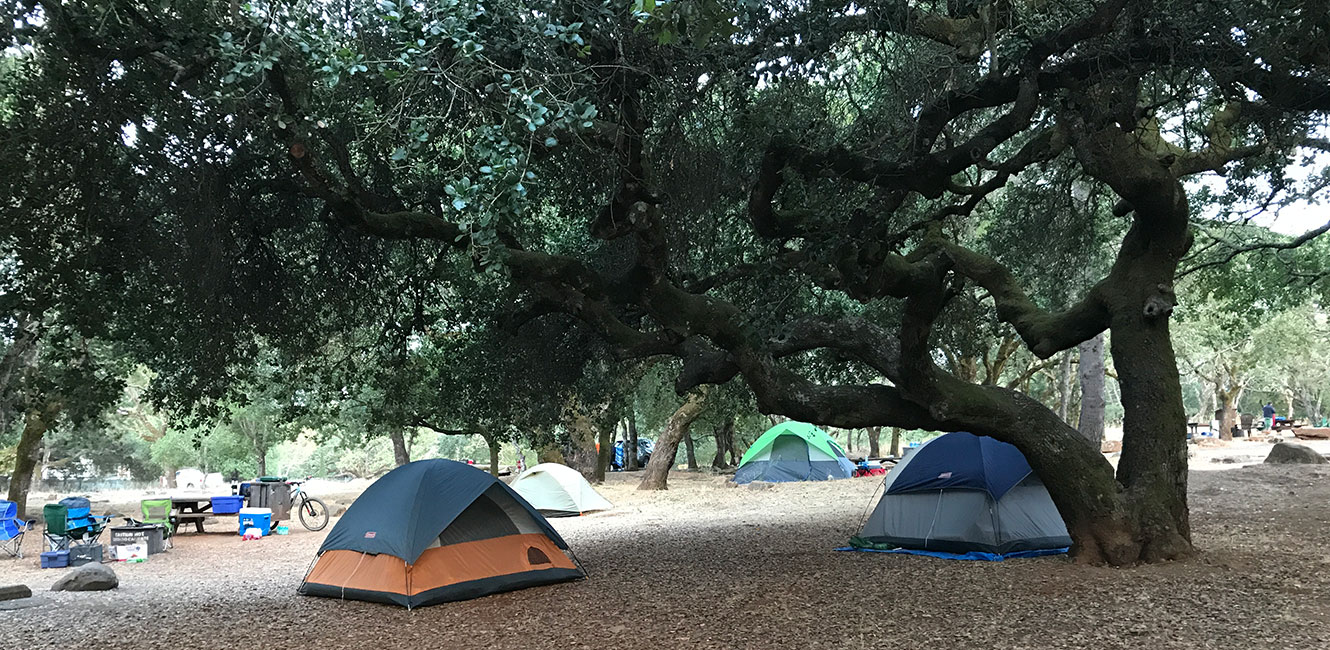 Spring Lake Regional Park has a group campsite for as many as 75 campers, perfect for special gatherings like reunions and club outings. The group campsite is ADA accessible.
These sites can accommodate tents only, no trailers or RVs. Group campsite reservations are required and may be made by calling (707) 565-2267 from 10 a.m.-3 p.m. Monday-Friday.
Rates
$225 per night
Non-refundable reservation fees range from $30-$50
Rate includes 10 vehicles. Each additional vehicle is $7 per night.
Use of campground dump stations available with a fee of $7 (available to those camping onsite only).
Group Campground Policies
Check In and Check Out Times: Check in is at 2 p.m. Check out is at 12 p.m. No-show reservation holders forfeit all paid fees. Confirm your site by registering with park staff. Sites must be occupied each night.
Reservations: Reservations are available up to 12 months in advance. You may make a reservation online anytime by visiting SoCoParks.org/Camping or you can call our reservation line (707) 565-2267, Monday-Friday, 10 a.m.-3 p.m. For same day reservations, you may book online up to 8 p.m. or contact our reservation line Monday - Friday, 10 a.m.-3 p.m. Payment is due at the time of booking. One household may reserve a maximum of two campsites per park per visit. Only one email address per household may be used to make a reservation. Specific sites are not guaranteed due to the potential for unexpected conditions (flooding, fallen tree, etc.). No reservation refunds will be allowed due to weather.
Site Capacity: A maximum of 75 people (including children) are allowed at the Group Campground. All vehicles must remain on the pavement and park in the designated parking spaces at all times. If you have a question about parking capacity at a specific site, contact the reservations office at (707) 565-2267.
Quiet Hours and Generator use: Quiet hours are 10 p.m.-7 a.m.; generator hours are 8 a.m.-8 p.m. Amplified music is not allowed at any time.
Pets: Pets must be attended, cleaned up after, securely leashed and under physical control on a leash no longer than 6 feet, or contained within a vehicle or tent. Proof of rabies vaccination is required. A fee of $2 per dog, per night will be charged.
Campfires: Campfires are allowed in designated barbecues and fire rings only. Burn all wood to ash, have enough water on hand to completely extinguish your fire and be sure the fire is completely out and cold before you leave it. Wood gathering is not allowed. Bundled wood is usually available for purchase from the campground host. Campfires are banned during Red Flag Warnings, high wind advisories and Spare the Air days. Wood and charcoal fires are never allowed at backcountry environmental campsites. Gas stoves and barbecues are allowed unless otherwise noticed. Do not burn trash in the fire rings.
Trash: Please clean up the campsite before leaving, the next camper will appreciate it.
Youth: Persons under 18 must be accompanied by a parent/guardian.
Stay Limits: Doran Beach, Gualala Point, Stillwater Cove and Westside Park campers are permitted to stay up to 30 nights in a calendar year, including 10 consecutive nights if the site is available. Spring Lake campers are permitted to stay up to 20 nights in a calendar year, including 10 consecutive nights if the site is available and a stay limit of 10 days per season (the winter season is Oct. 1-April and the summer season is May 1-Sept. 30). Once this consecutive night limit is reached, the campground must be vacated, and no one in the party may return to camp in the park for 24 hours.
Boat Washing/Fish Cleaning: Washing your boat and cleaning fish is only authorized in the established stations, not at campsites.
Wildlife: Protect wildlife – and your food – by securely storing your meals and trash in containers or vehicles. Close trash can and dumpster lids. Feeding, disturbing or harassing wildlife is prohibited.
Cell Phone Reception and Wi-Fi: Cell phone reception may be limited at some campgrounds and parks, depending on your carrier. No public Wi-Fi available.
Smoking is Prohibited: Smoking, including e-cigarettes and vaping, is prohibited in all Sonoma County Regional Parks and campgrounds.
Fees: Valid discounts must be presented at the time of reservation. Sonoma County residents must carry proof of residency to receive a discounted rate. Access members must possess a valid Access hang tag to receive a discounted rate. Fees are subject to change without notice.
Failure to comply with policies, rules and regulations may result in eviction from the campground and/or a loss of paid fees. It is the reservation holder's responsibility to ensure all members of their camping party are informed and comply with all park rules and policies.